For any Nextpoint user, the first step in getting started is to be added to a specific database, or if you are an Account Administrator, to the firm's Account Dashboard. First-time users added to any database will need to set up a User Profile with pertinent details, accept the terms of use, and authenticate/verify their computer device.
Outlined below are the steps you can expect when logging in for the first time and subsequently logging in "the next time" after your initial setup:
Logging in for the First Time
When first added as a Nextpoint user, an auto-generated email will be sent to the email address provided by your Account Administrator.
Click on the hyperlink in the email to activate your User Profile. Upon clicking, you will then be directed to the user onboarding sequence where you can set up your profile in five easy steps.
Note: If you are expecting an invitation to access a database and have not yet received it, please first check your Spam and Trash for an email from Nextpoint.
If this is not your first time logging in, see section below covering Logging In After Initial Setup.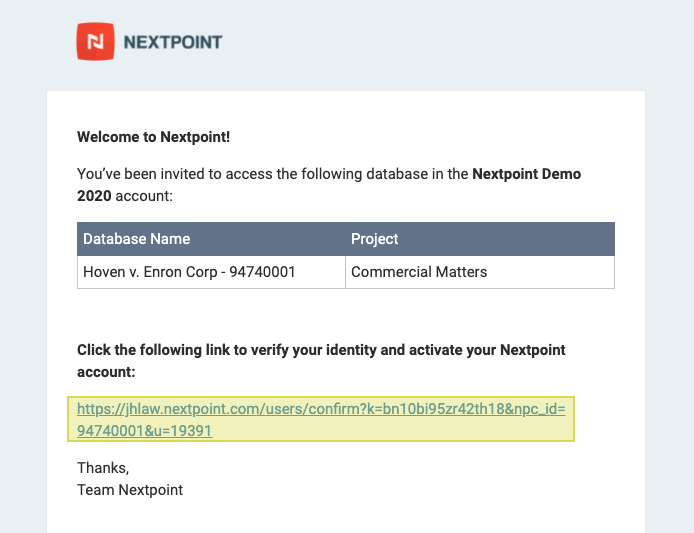 Logging in After Initial Setup
Once your User Profile setup is complete as outlined above in the section title "Logging in for the First Time", you are ready to log in via any internet browser.
If you were not redirected after completing the onboarding process, check the previously received invitation granting you access. Contained within will be a custom firm URL formatted similarly to firmname.nextpoint.com -- this is your Account URL.
An example is shown below:

To log in, open any browser, and navigate to your Account URL. Once there, enter your username (email address) and password (as set up during the initial onboarding process), then click Log In.
When on a personal device (not shared):
Check 'Disable session expiration' on the log in page to avoid Nextpoint signing you out after 30 minutes of inactivity. Checking this may be beneficial if you intend to start uploading data to the File Room upon logging in.
Check 'Remember my email' so when you come to the log in page in your next session, you will not need to input your username/email again.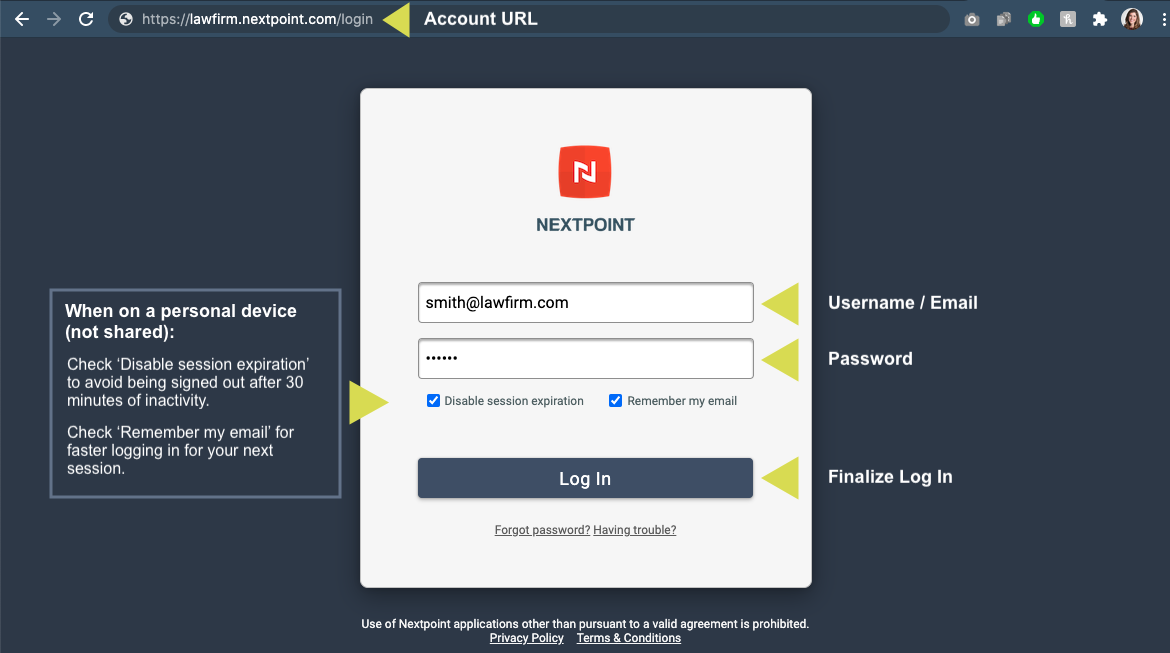 TIP: When logging in the first time, bookmark your Account URL to avoid needing to go back to the original email invitation with the link each time. Read more here on how to create a bookmark in Chrome, Firefox, and Safari
Help! I'm having trouble logging in.
If you are having issues logging in to Nextpoint, a series of troubleshooting options are linked below.
---
User Security Best Practices
Each time you log in from a new device, you will need to enter a PIN that will be emailed to you. If you find yourself entering a PIN every time

you log in on the same device, we recommend checking to make sure you have "Cookies Enabled" in your browser. This is how your PIN is saved to recognize your device.

DO NOT copy and paste this PIN from your email, as there may be hidden characters that will cause an error.
Enter your Computer (Device) Name so that you can easily track the devices used to access your account (e.g. Work Computer, John's iPad, etc..)
---
Common Login Issues
Having trouble accessing your Nextpoint account? These are the most frequent scenarios our support team has encountered in the past, along with steps for resolving them.
1 | Forgot my password.
Click the "Forgot Password?" link underneath the "Log In" button. Nextpoint will email you a link to reset your password.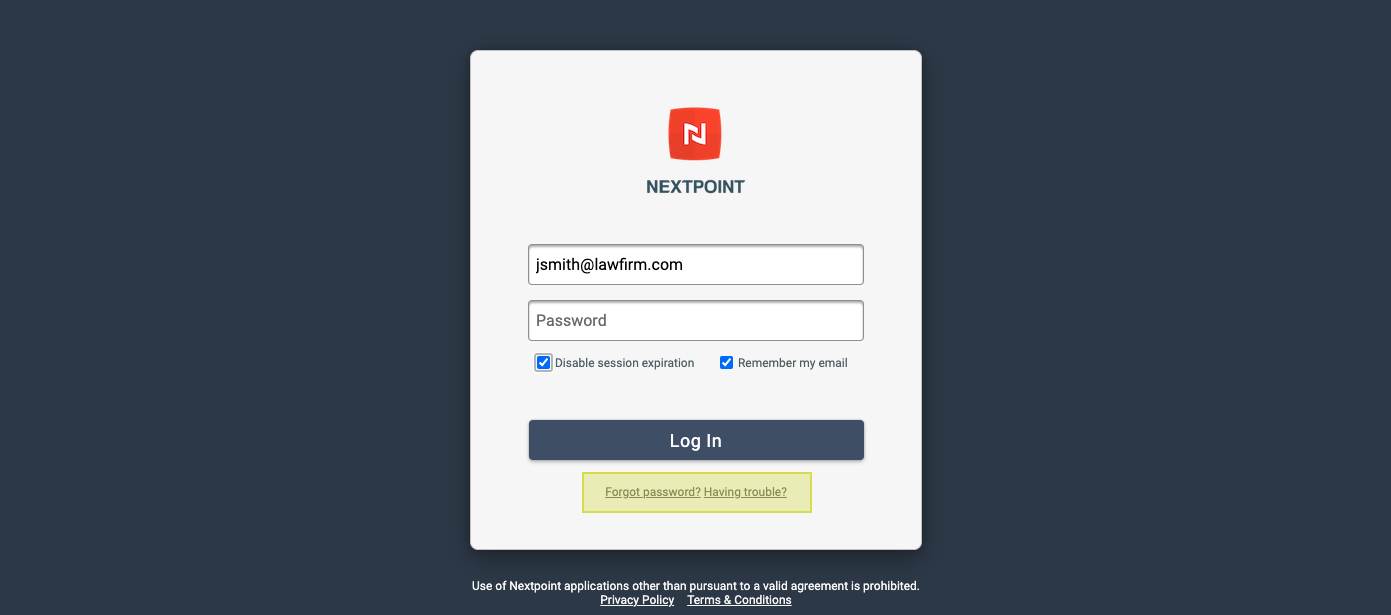 2 | Received an "invalid or expired confirmation link" message.
For security purposes, all Nextpoint invites have a time limit. If you did not set up your user account within the time limit, you will need a new invite.
If you are the first user on the account, please contact your Nextpoint Account Director. They will work with you to send a new invite.
Note: Our user invites only work for the person they are issued to. If you attempt to register using an invite link with someone else's name on it, you will also see this error message. Please ask the account administrator to send you an invite of your own.
3 | Received a "login failed" error message.
Copy-and-pasting the password sometimes leads to this error. Try typing it instead.
4 | Received an "email not recognized" error message.
Check with your Firm's Nextpoint Administrator to make sure you've been added to the case and your email address was spelled correctly.
If it wasn't, have your Admin add you as a user with the correct email.
They can also choose to remove the incorrect user email by clicking Users > Current > (select email address), then selecting Remove Completely.
If your email address was spelled correctly, please contact your Client Success Director or Support.
5 | Clicked "Log In" and nothing happened.
Nextpoint needs an active connection to launch. Check your internet connection and see if other websites are loading normally.
In rare cases, Nextpoint may be down. To check whether this is the case, visit http://status.nextpoint.com.
6 | Never received my invite email.
First, check your Spam folder.
If the email is there, move it back to your inbox and be sure to whitelist emails from Nextpoint. If the instructions in the previous link don't seem to be working for your mail client, ask your IT manager for help.
If the email is not there:
Whitelist emails from Nextpoint.
Confirm the invitation to access was sent to the correct email address (e.g. look for typos, old email addresses, etc...).
Ask your IT manager to check firewalls and make sure emails from Nextpoint are allowed in.
Please submit a ticket with the database number and the invited user's name and email address to support@nextpoint.com. We will resend the invite.
7 | Successfully set up my username, but never received my device PIN email.
Occasionally these emails will be received with a delay from the mail server. If possible, please allow 10-15 minutes for the email to come through. If it's been more than 15 minutes, check your Spam folder.
If the email is there, move it back to your inbox and be sure to whitelist emails from Nextpoint. If you're unsure of how to do this, ask your IT manager for instructions.
If the email is not there:
Whitelist emails from Nextpoint.
Ask your IT manager to check firewalls and make sure emails from Nextpoint are allowed in.
Request another device PIN. To do this, click the link at the bottom of the Verify Device page of the onboarding screen.
8 | Not a new user, but my latest device PIN wasn't delivered.
Log in again and try to request a new PIN. If the PIN email is still not delivered, follow the steps for Issue 7 above.
9 | Asked for a new security PIN every time I log in.
This can happen if your browser isn't allowing cookies. Here's a WikiHow article explaining how to enable cookies.
10 | 403 Error
A 403 error can occur for a number of reasons. Here are some potential solutions:
Clear your browser's cache/cookies/history
Try another browser
Try the incognito tab on your browser
Deactivate any plug-ins on your browser
What if I still can't log in?
Send an email with your name, Database ID and a description of what you're encountering to support@nextpoint.com.