Where is the redaction tool located?
When viewing the document itself, click on the Markup tool in the Viewer Tools section to open the redaction interface.

---
Applying redactions
To add a redaction, position the cursor on the document, click and drag. Once the redaction box is created, simply click the Redact button and add your redaction reason, style, and optional note. You can add multiple redaction boxes to one document by simply clicking and dragging again.
The page will be reprocessed to place the redaction boxes, which will display the Redaction Reason. To learn how to create Redaction Reasons, click here.
FAQ: How do zoom in/out for redactions?
If you come across a redaction which requires zooming to more accurately apply your redaction, you can utilize your computer's trackpad to zoom in and out for greater legibility. A second zooming option is using Command + / - to zoom in and out (an alternative if you don't have a track pad).
---
Viewing redactions
Once you have highlighted or redacted your document, quickly find all highlights and redactions for that particular document listed by corresponding page in the "Image Markups & Page Notes" section of the sidebar.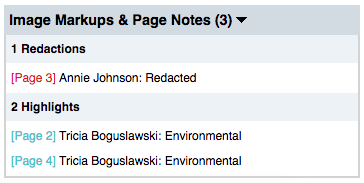 You can also toggle your markups on/off via the toggle markups icon in your document Viewer Tools.
---
Removing redactions
If redactions or highlights need to be removed, you can navigate to Views/Edits/Markups at the top-left of your viewer and remove as needed. Please note, you will have the opportunity to provide a reason for removing the redactions (e.g. changes need to be made, etc...).
What happens to redacted text?
Once a redaction markup has been applied, anytime that document is exported, the redaction will be in place on the image and the underlying redacted search text removed from any provided text files.
If you are providing a metadata load file with your export, it is recommended you review your export closely for any redacted fields such as author, recipient, email subject, etc. If those fields have been redacted on the images/text, they will need to be manually removed from your metadata load file.
Return to Discovery Workflow