This functionality is available for Advanced and Standard users only.
To Add Information to One Document
When you're viewing the document itself, coding information is available in two areas:
In the Coding Fields section, you will find Review Status, Privilege Status, and Confidentiality along with any Hot Coding fields that have been set up. Make your changes, then click Update to save.
The rest of the coding fields can be modified by expanding the Additional Coding Fields section. Just make your  changes, then click Update to save, or Update & Next to save and move on to the next document in your list.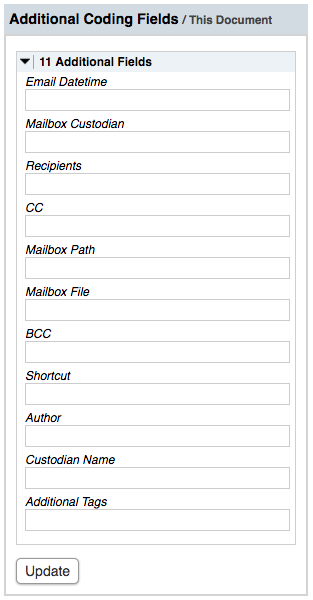 To Add Information to Multiple Documents
Search for the docs you need, click Select All or choose the documents you wish to edit, then click Bulk Actions.
Enter the information in the appropriate fields and click "Update Documents".