Question
The data which I am importing into my Nextpoint database is in a particular folder structure which I would like to maintain upon import. Can I do this? If so, how do I recreate my folder structure?
Response
The short answer is "yes", Nextpoint maintains your folder structure information upon import, including subdirectories. During import, Nextpoint will maintain the root folder and file path information, and once processing completes, you can search and sort by that specific information in order to recreate your original folder structure.
Set up for Success
The process begins with uploading your parent folder to the File Room in an unzipped format. See below screenshot illustrating Parent folder "Client Upload_3" which was uploaded to the File Room unzipped with three subfolders contained within: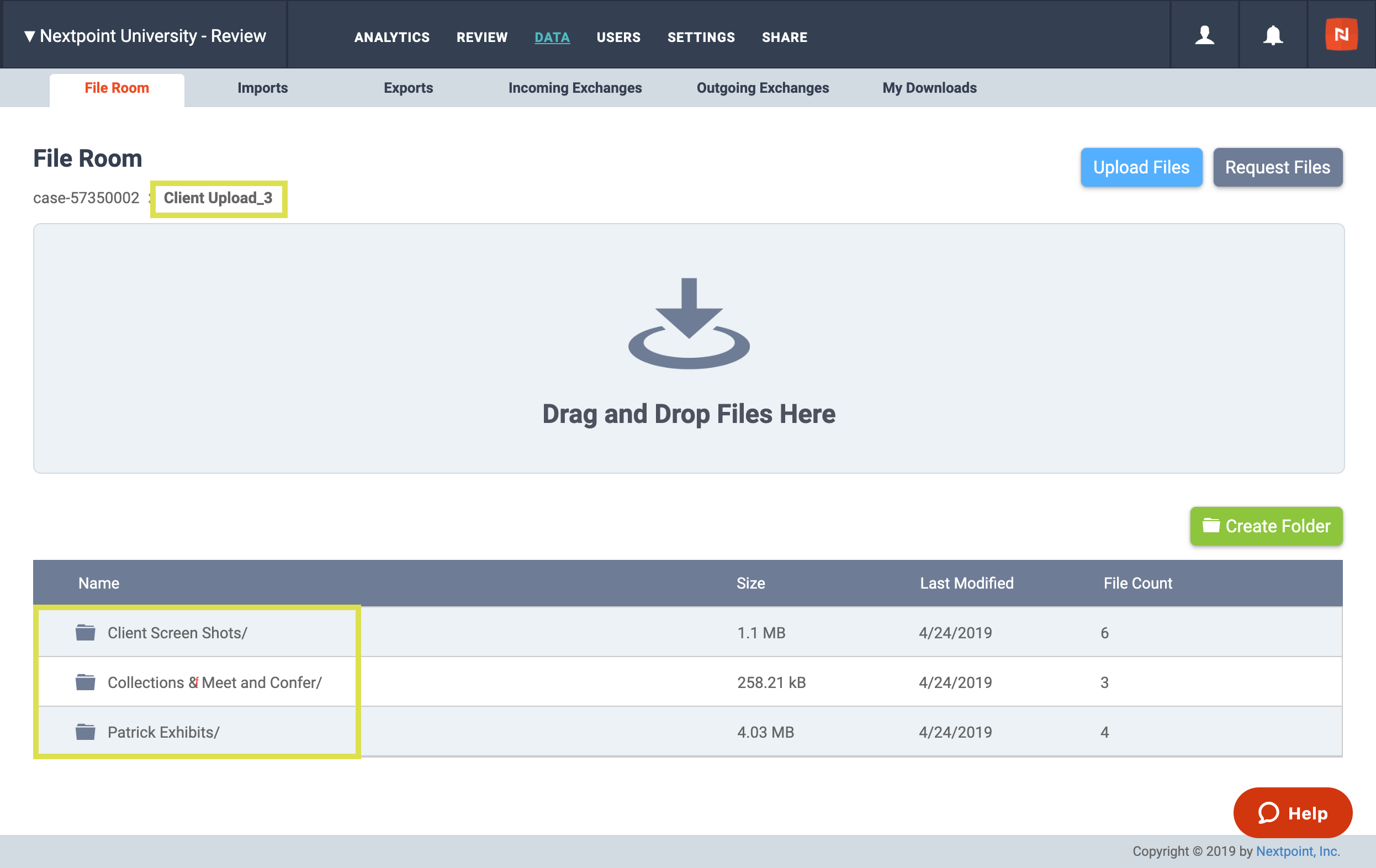 Recreate Your Folder Structure
Once your data is in the File Room, take the following steps:
Import your parent folder. It is suggested you import one "top" level folder per import batch for purposes of maintaining a clear and concise organization.


While the import is processing, create the folder(s) which you would like to recreate in your Nextpoint database under SETTINGS > Folders.
Additionally, create a Grid View Template which includes the Root Folder and File Path fields.


Once processing is complete, you can search in your REVIEW tab to narrow by a specific file path. The search is:

file_path:"[insert subdirectory by which you want to organize]

You can also limit your search to a specific import batch:

batch:## AND file_path:"[insert subdirectory by which you want to organize]


Once you run your search, make sure you select the Grid View template you set up in Step 3 above > sort by the File Path column > Select All from your Grid View > and Apply the appropriate folder via a Bulk Action.

Search, Sort and Select



Apply Your Folder


Repeat steps 4 and 5 as many times as needed to folder all documents from that batch in their appropriate subfolders.


Tip:

To confirm all documents from a particular batch have a folder applied, search for the following: batch:## AND NOT folder:*

View end result by navigating to your REVIEW tab:


---
See other FAQ's here or Return to Discovery Workflow.