Where is the redaction tool located?
When viewing the document itself, click on the Markup tool in the Viewer Tools section to open the redaction interface.
Applying redactions
To add a redaction, position the cursor on the document, click and drag. Once the redaction box is created, simply click the Redact button and add your redaction reason, style, and optional note. You can add multiple redaction boxes to one document by simply clicking and dragging again.
The page will be reprocessed to place the redaction boxes, which will display the Redaction Reason. To learn how to create Redaction Reasons, click here.
Viewing redactions
Once you have highlighted or redacted your document, quickly find all highlights and redactions for that particular document listed by corresponding page in the "Image Markups & Page Notes" section of the sidebar.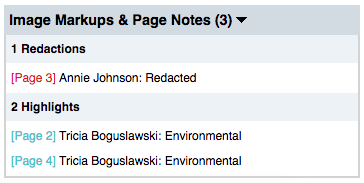 You can also toggle your markups on/off via the toggle markups icon in your document Viewer Tools.
Removing redactions
If redactions or highlights need to be removed, you have two options:
1. On the right side of the screen you can expand the Annotations section. From here you can choose to remove all redactions, or remove individual redactions by selecting the minus sign next to it.
2. Select the clock icon on the top left. This will open the document history where you can view redactions, as well as any other changes made to the document. From here you can select Remove All Redactions, or select the minus sign to remove redactions individually:
Please note, you will have the opportunity to provide a reason for removing the redactions (e.g. changes need to be made, etc...).
What happens to redacted text?
Once a redaction markup has been applied, anytime that document is exported, the redaction will be in place on the image and the underlying redacted search text removed from any provided text files.
If you are providing a metadata load file with your export, it is recommended you review your export closely for any redacted fields such as author, recipient, email subject, etc. If those fields have been redacted on the images/text, they will need to be manually removed from your metadata load file.
Return to Litigation Workflow
Return to Discovery Workflow