*This functionality is available for Advanced users only.
What is Nextpoint Exchange?
Exchange is an exclusive, highly-secure process that lets users create a new database instance, or copy of a collection of evidence with internet speed and zero cost.  To exchange you simply select the chosen set of evidence to clone, set the destination, configure your load file and metadata specifications, and initiate the outgoing exchange.  
If the number of documents you wish to exchange exceeds 5,000 - we recommend doing multiple exchanges with a smaller number of documents.
1. Start an Exchange
Select documents you would like to exchange, and click "Exchange" in the top navigation bar of your grid view. This will bring up the exchange modal window on your screen which walks you through the process.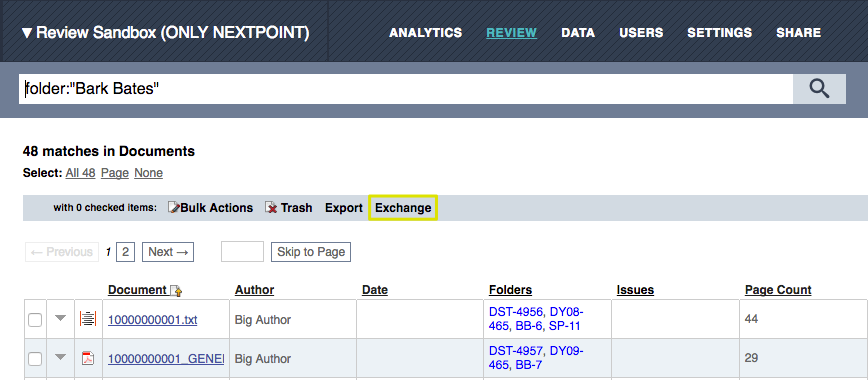 2. Select a Destination For your Exchange
Either create a new database
On your current account (for an internal document copy)
A 3rd Party account (for document production to external party)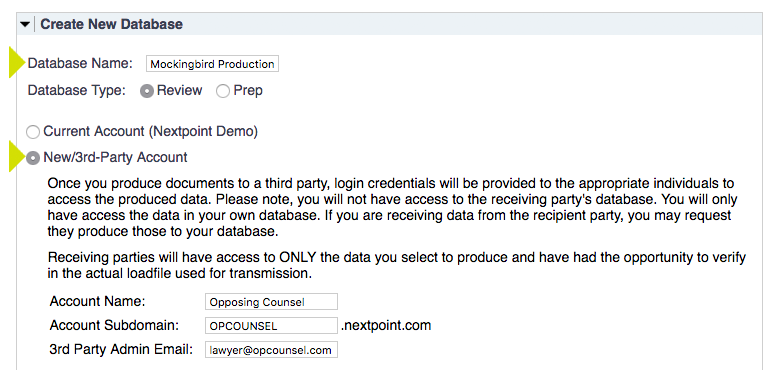 Or choose an existing database (enter the PIN for the account in Settings on the destination case)
In Prep, your exchange PIN is found in the destination database under MORE > SETTINGS > Export/Exchange.  In Review, you can navigate directly to SETTINGS > Export/Exchange.


Set Admin and PIN in destination if not already set.  Copy the PIN from your destination and paste it in the Exchange PIN section of Step 1. of your Exchange configuration.

3. Select Loadfile Review (Yes or No)
Reviewing the loadfile gives an extra level of QC to ensure you are producing exactly what you want.

4. Configure your Exchange
Name the Exchange, e.g. 8/30/12 Production
Select your options for what to include in the transfer:
The selection of "Transfer previously copied documents" will re-exchange documents even if they already exist in the destination database. 
Transfer natives will ensure all imaged documents resulting in the destination database have their original native associated.
Unselecting the "Bates numbers" option will not remove the stamps and the Bates stamped documents will result in the destination database.  Doing so will only strip the Bates assignments from the documents.
Select any custom coding fields to include
Click "Submit".
You will get email notifications each step in the transfer process, and you can monitor your transfer by going to DATA > Outgoing Exchanges.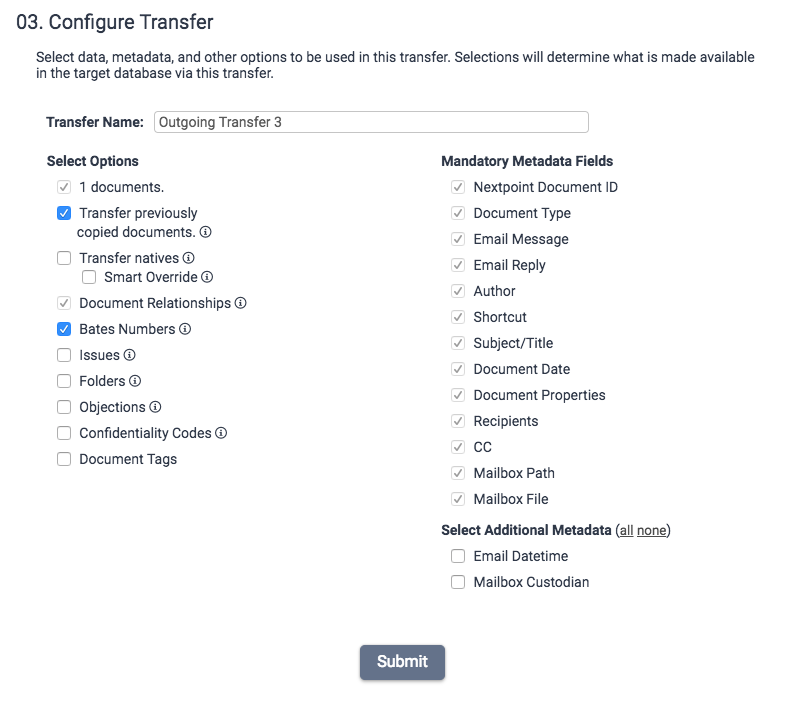 5. Review your Loadfile
If exchanging to an external party, you may want to consider reviewing your exchanged loadfile prior to completing the Exchange.  Make sure that all the documents you wish to produce, and only those documents are included in the exchange, by clicking on the loadfile to download and review.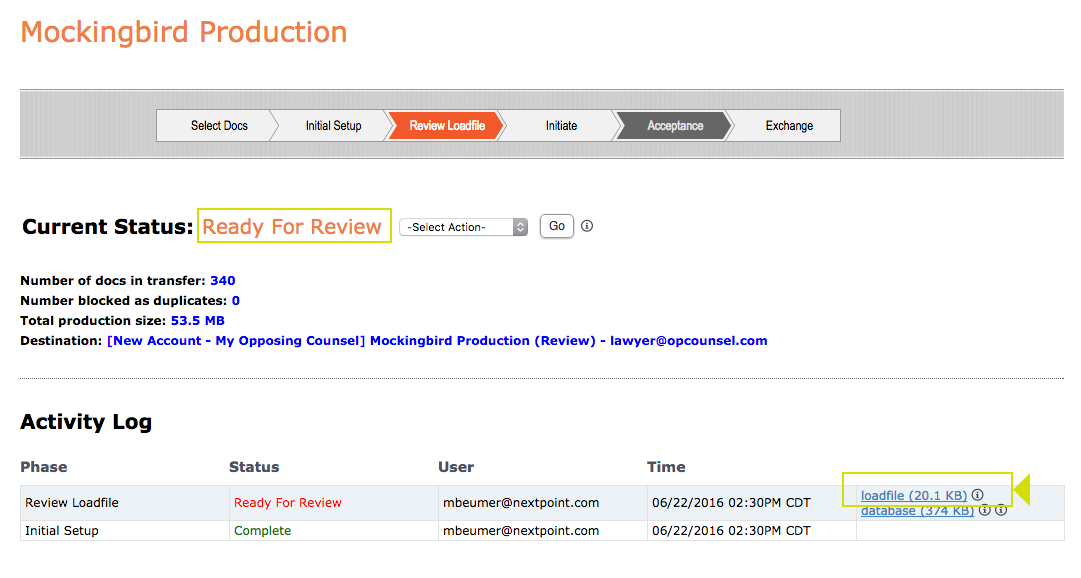 6. Select Initiate Work Order
If everything looks good, select "Initiate Work Order" and click "Go".

7. Select Final Approval and Click Go
You will be taken to a disclaimer screen where you will click "Final Approval" to kick off the exchange.

The documents will be copied to the new instance, per your specifications, and the recipients will get email notification with instructions to access the database.