When a set of documents is ready for production (reviewed, relevant, and privileged documents withheld or redacted), it is time to endorse.
---
Begin Endorsement/Bates Stamping Process
To begin the endorsement/Bates stamping process, navigate to your REVIEW tab in the upper navigation, click the three dot drop-down, and then "Number & Endorse".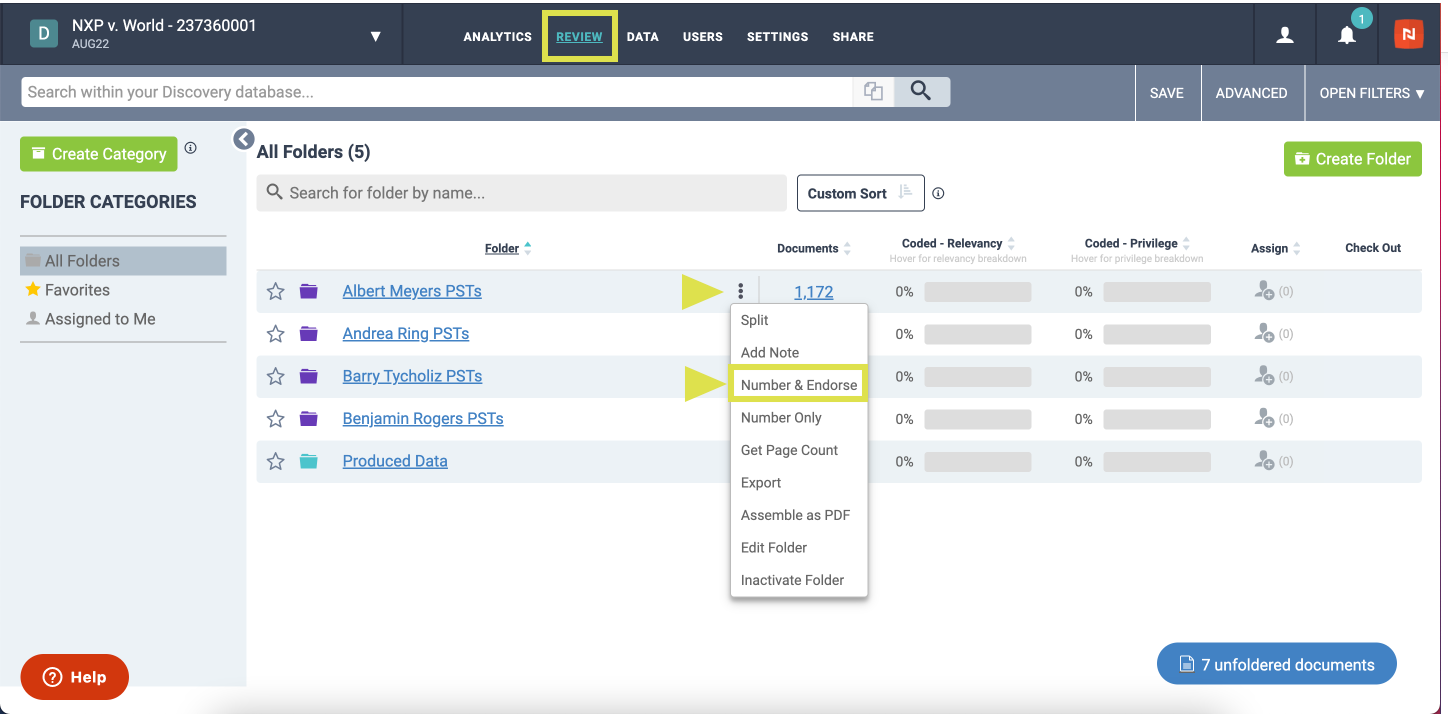 How many documents should you endorse at once?
When making the following endorsement actions, it is important to note there is a 100,000 document limit per action:
Number & Endorse
Number Only
Remove Numbering & Endorsement
See more below with respect to how you can accomplish endorsements on more than 100,000 documents in one production.
---
Review Warnings Prior to Endorsement
Nextpoint will warn you if:
Documents within your folder already contain endorsements. These documents

will not

be re-endorsed with a secondary Bates number if they already have an endorsement in place.
Current processing could impact your documents. (e.g. other endorsements are in progress)
A mailbox is contained in your set. It is recommended you remove this mailbox file from your folder and production - if you were to produce, recipients will receive all contents of the original mailbox container.
Documents marked privileged are in your set. It is recommended you remove these files from your folder and/or production unless you are intentionally endorsing/Bates stamping privileged documents.
Zero-page documents are in your set. Endorsing with zero-page documents in the set will result in those documents receiving a native placeholder. If this is not desired, those documents should have image-exception placeholders added before proceeding.
If Nextpoint warns of one of the above conditions, it should be verified (and remedied if necessary) before proceeding.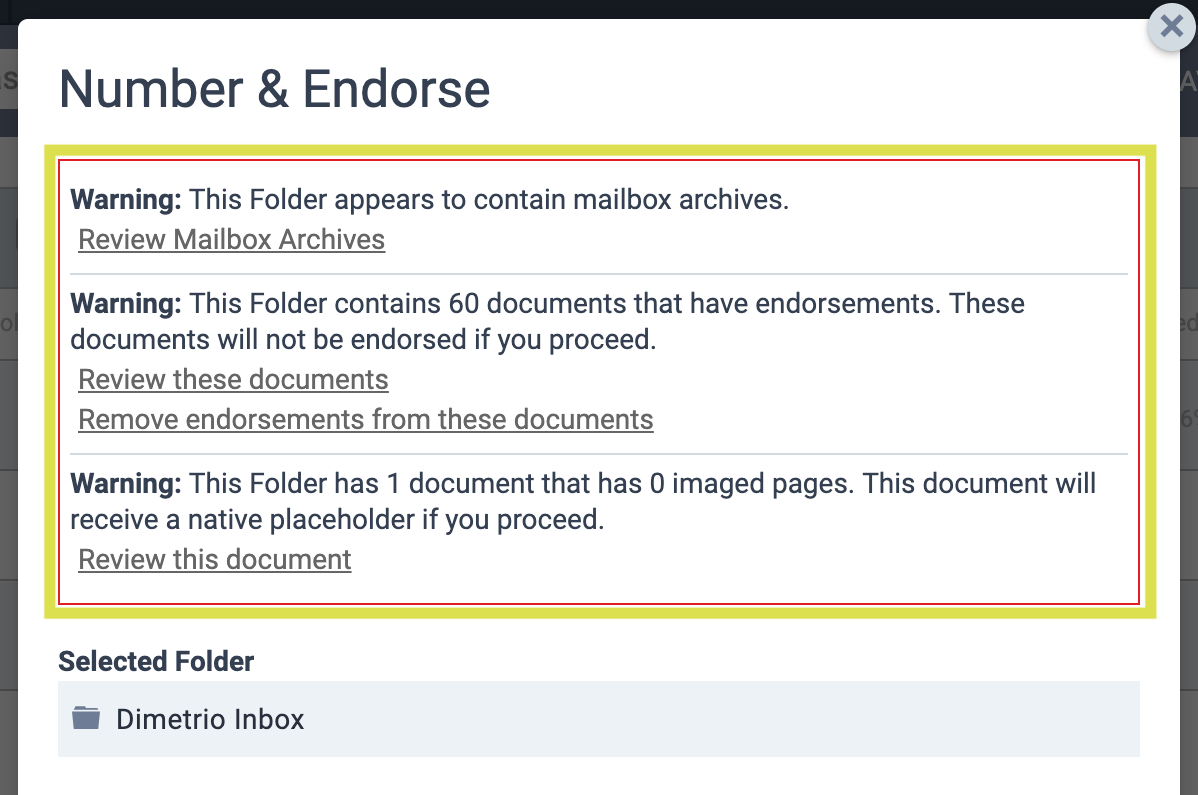 ---
Select Endorsement Template
Select an endorsement template to be used
Verify the number to be endorsed on the first page of the first document in the folder
Confirm the placement of the endorsements and preview what it will look like
Click the "Endorse" button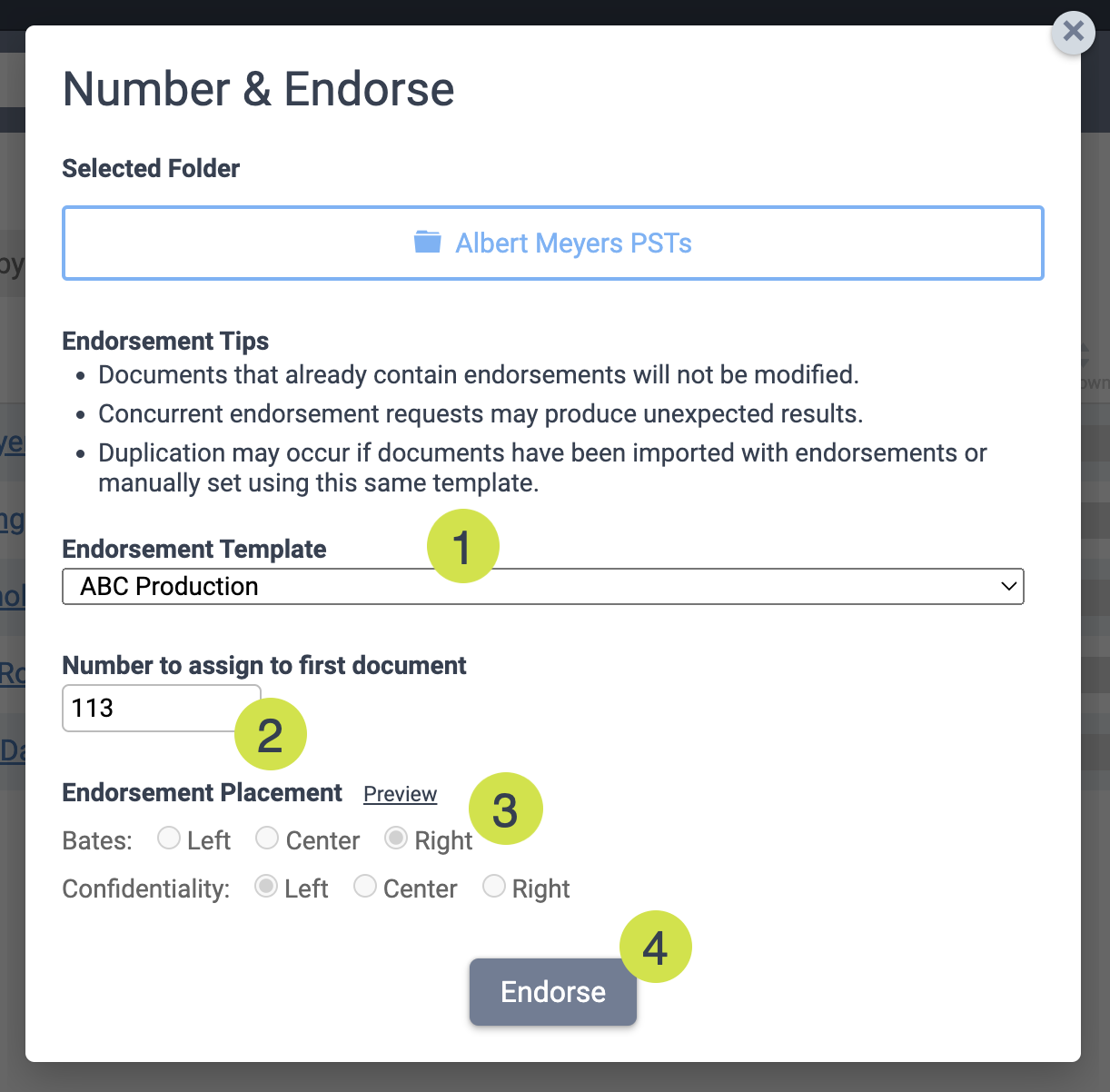 Nextpoint will assign your numbering, generate placeholders, and endorse all documents in the selected folder and notify when endorsements are complete.
Note: Any prefix, leading zeros, etc... you set up in your endorsement template will be applied during the stamping process.
---
Verify Endorsement Results
Once you initiate the endorsement process, it is important to verify all stamping is complete prior to initiating the export process.
To verify stamping is complete, first check that the "Processing Status" section under DATA > Imports reads "There are currently no active jobs".

Second, it is recommended you Filter in your production folder for Bates Assigned, Stamped and verify the first and last documents in the folder bear a Bates number on each page.
You may also consider including one last verification of Responsive/Not Privileged in your Filter (see below).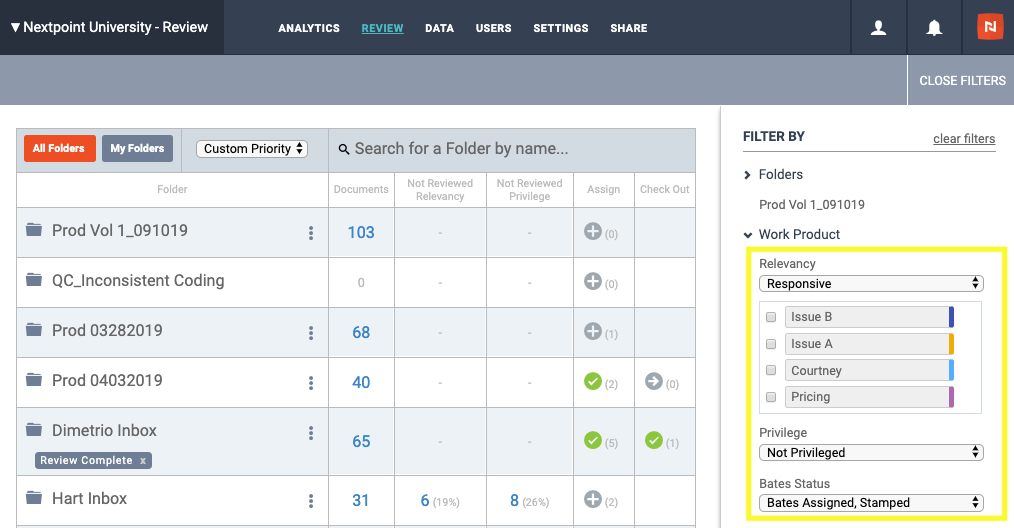 ---
Stamping More than 100,000 Documents at Once
As mentioned above, there is a 100,000 document limit for the following actions:
Number & Endorse
Number Only
Remove Numbering & Endorsement
If you find yourself in this situation, we recommend the following steps:
Create a second production folder, then, isolate all documents beyond the 100,000 limit from the original folder by performing this search:
folder:"[production folder name":[100001 200000]
Then apply your second production folder to the documents returned in the above search.
Next, remove these same documents you just added to the second folder from the first folder.
Endorse the first folder: Due to the large volume of documents you are endorsing, this may take some time, so please ensure all endorsements are applied prior to stamping your second production folder.
When the endorsement of both folders is complete (see above screenshot), apply the first production folder to the documents contained within your second production folder, and you are set to export.