If your production needs to include consistently coded email families, we recommend you follow the workflow below.
Please contact the Engagement team at support@nextpoint.com if you would like to discuss a different production workflow.
1. Set up your Production Folder
Go to SETTINGS > Folders and click "Create New". You can also create your folders via the REVIEW tab or via a Bulk Action after you have narrowed your document universe for production.
See more here on the different opportunities to create folders.

Enter your Folder Name and validate the auto-populated abbreviation/prefix is what you prefer.
Assign a color to distinguish your folder visually in the database. Perhaps, all production folders are green, etc..
Select which Folder Category (or categories) your folder should be associated with.
Click Create to finalize the creation of your folder.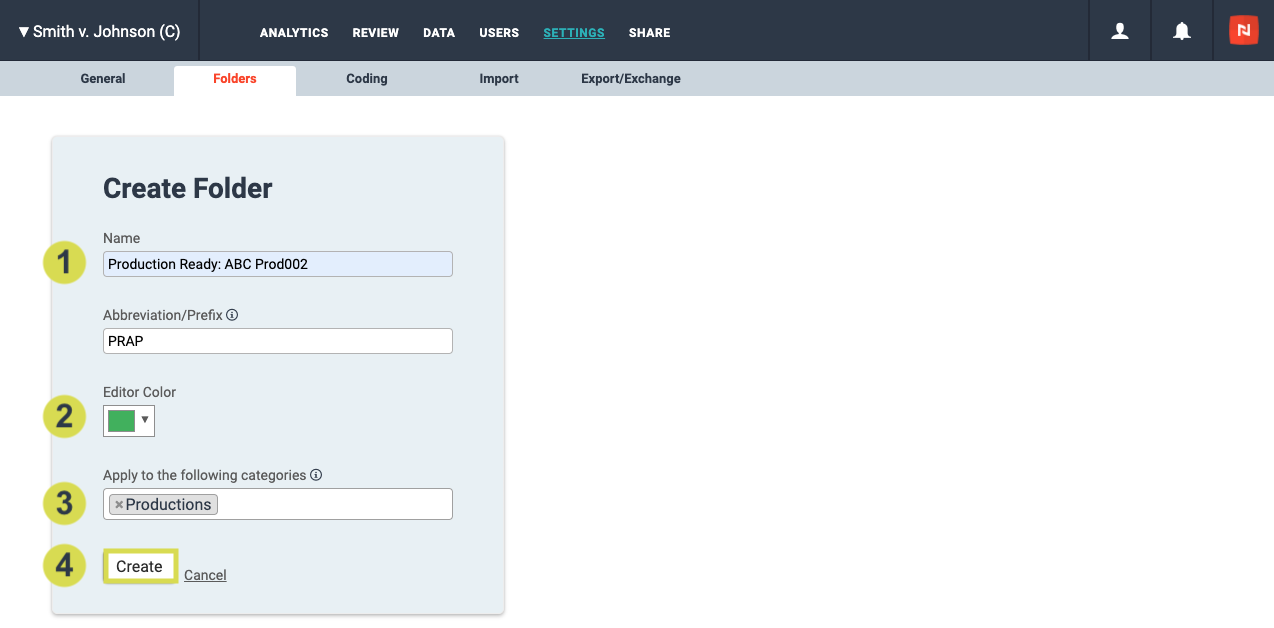 2. Filter your Documents
Next, on the Review tab use the Review Status filter to find documents marked as:
Relevancy Status: Responsive
Privilege Status: Not Privileged
Bates Status: Bates Not Assigned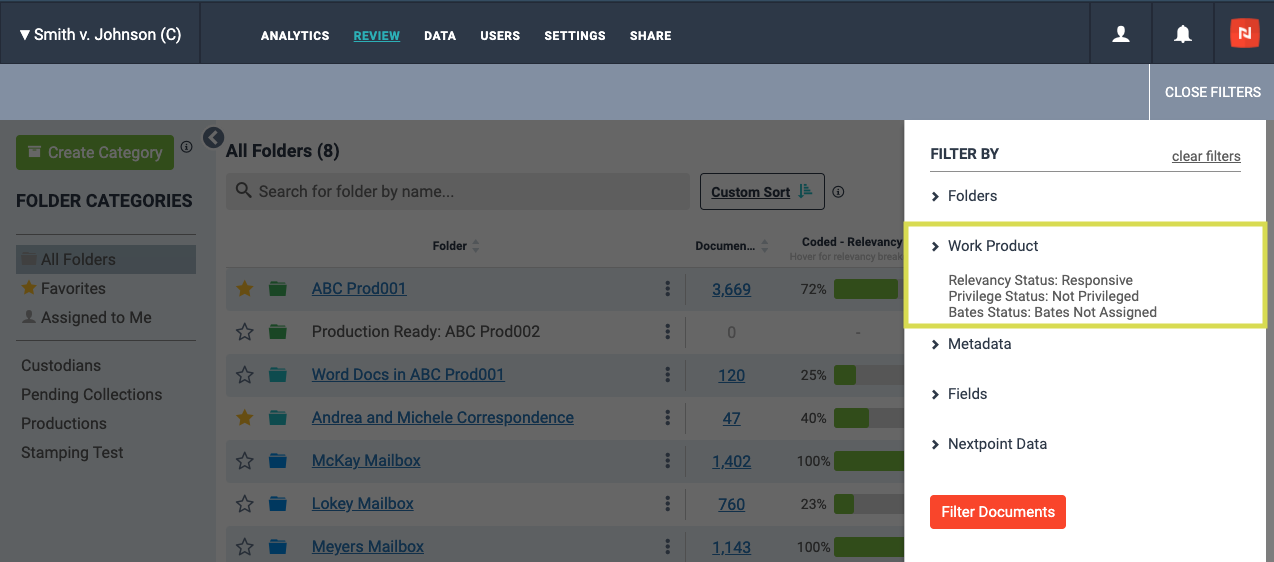 3. Add Documents to the Production Folder
Once you have filtered your documents, sort them in your desired order by clicking the appropriate field at the top of the grid view screen.
To add these documents to a folder, click Select All then Bulk Actions.

The Bulk Action modal will pop-up.
Select Add under the Folder action checkbox select your Production Folder from the drop-down.

If you have not yet created your production folder, you can do so via Create New Folder option under the folder list.

Make your selection as to which related documents should be added to the folder.

We recommend selecting Email Family. This will ensure documents returned in your filter AND their related family members will be added to your folder.

Make your selection as to the order in which documents should be added to the folder - Family or Data & Family (chronological).
Lastly, click Update to initiate the Bulk Action to add the documents in your Grid View list to your Production Folder.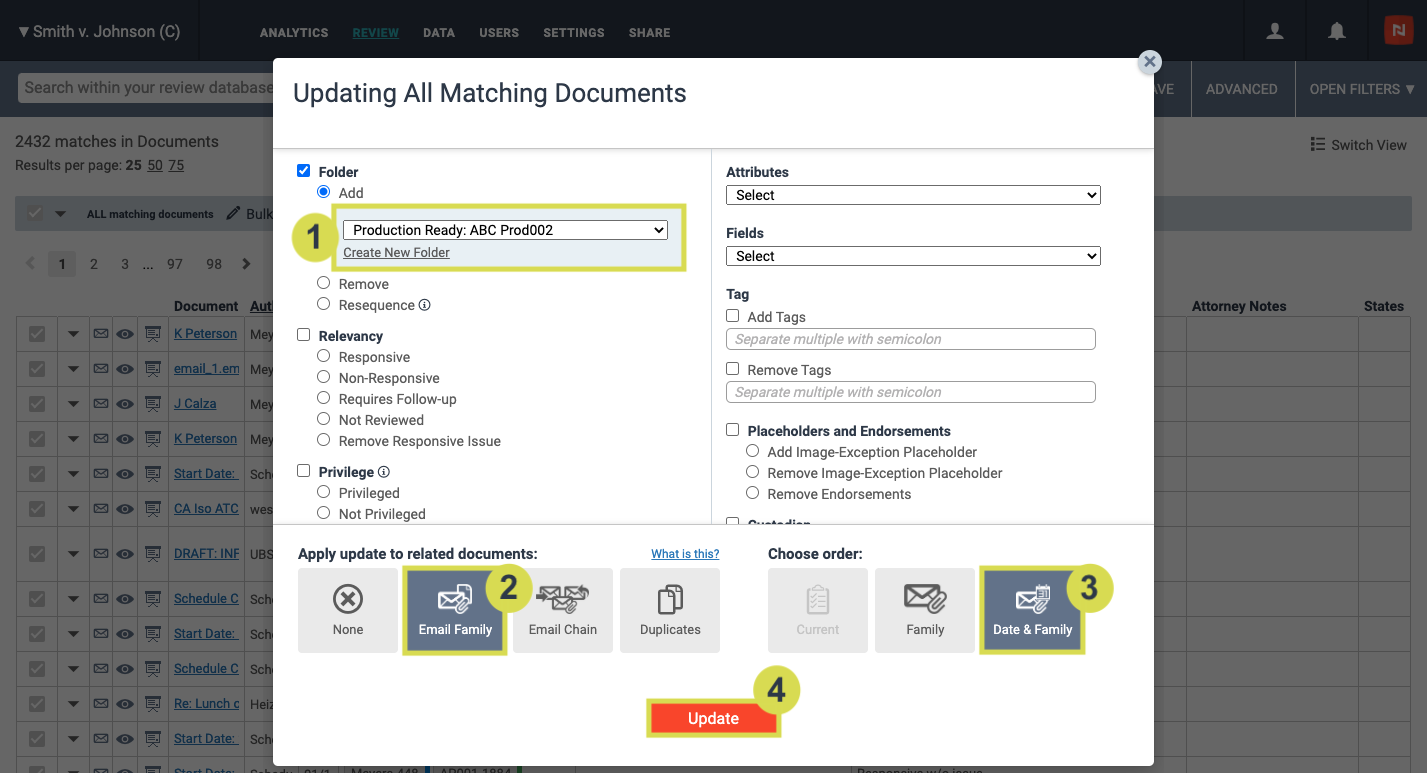 4. Check for Inconsistencies within Production Folder
Navigate to the REVIEW tab and locate your newly populated production ready folder.
From here, you will want to check for coding inconsistencies. These are created when an email family member (parent or attachment) is coded as Responsive-Not Privileged, but a corresponding family member is coded differently.
Nextpoint makes it easy to check for inconsistencies in your folders. Simply hover over the Coded-Relevancy or Coded-Relevancy progress bar(s) next to your Production Ready folder. Any inconsistent coding (e.g. Non-Responsive, Requires Follow-up, Privileged, or Not Reviewed) will be calculated and hyperlinked for further review.

5. Resolve the Inconsistencies within Production Folder
Click into the inconsistent coding categories and review to either clean up the coding or confirm the inconsistent family coding should stay in tact.
In the below illustration, we are reviewing the 4 Privileged documents in an otherwise responsive/not privileged production ready folder.

Go through each document family and clear up any inconsistencies or remove them from this round of production. Are redactions are needed? Do you, in fact, want to exclude this document from production?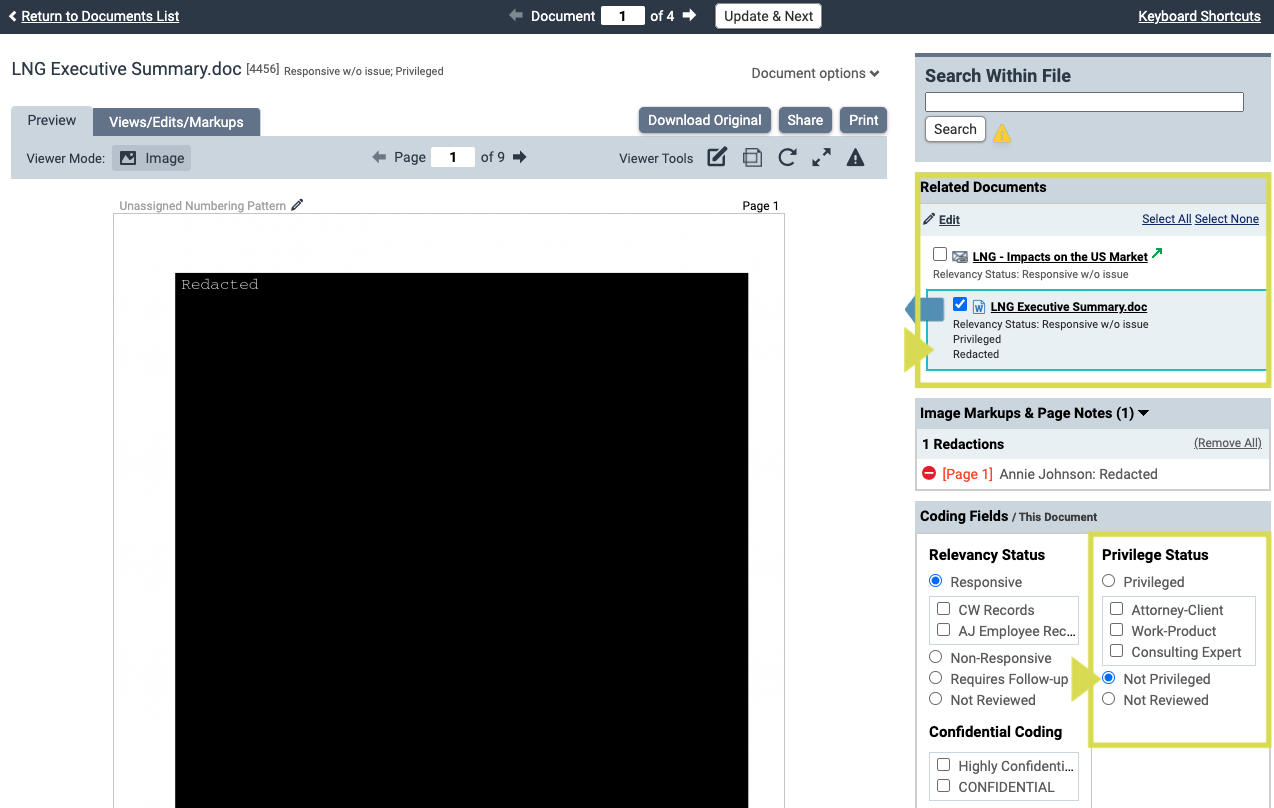 Once you have reviewed inconsistencies, make sure to go back to the REVIEW tab and hover over the Coded-Relevancy and Coded-Privilege progress bars. Any verified inconsistently coded documents should be removed from your production folder.
After completing the above steps, your production folder should be ready for Bates stamping and exporting.