Nextpoint continues to make folder management and navigation more powerful than ever before.
On Monday, June 1st we're excited to roll out further enhancements to Nextpoint Folders in both Document Review and Trial Prep databases. This update to folders (phase 2 of 3 ) makes it even more intuitive to monitor your review progress and quickly see the status of a folder when reviewing documents, collaborating with co-counsel, preparing remote depositions and arbitrations, or organizing oral arguments.
These changes will improve some existing workflows, so we want to make you aware of the changes before they are released.
WHAT TO EXPECT:
Progress bars for relevance and privilege coding provide quick insight into your review
Improved folder notes for collaboration even in Prep databases
Auto-populated folder and document issue prefixes save you time
---
More Transparent Review Status
Gain more insight into your Review status than ever before with the addition of progress bars for relevancy and privilege coding. Take advantage of these additional relevancy and privilege insights as you track review (or reviewer) progress, understand "what you have left", QC a production folder for consistent coding before Bates endorsements are applied, and more.
To access this update, first navigate to the REVIEW tab in any Nextpoint Review database. At first glance, the green + gray progress bars will display the percentage of documents in a particular folder which have been coded for Relevancy and Privilege. Coded is defined as any status other that "Not Reviewed".
If you want a closer look at the specific review statistics, simply hover over a particular progress bar.

Coded - Relevancy progress bars will display the specific counts for Responsive, Non-Responsive, Requires Follow-up, and Not Reviewed will be displayed on hover and all counts will be clickable.
Coded - Privilege progress bars will display the specific counts for Privileged, Not Privileged, and Not Reviewed will be displayed on hover and all counts will be clickable.
---
Add Notes for Streamlined Collaboration
Folder Notes received a visual update which better represents collaborative "notes" for our user teams.
To apply a folder note, simply click the three-dot drop down next to any name in your folder list, select Add Note, and enter your text.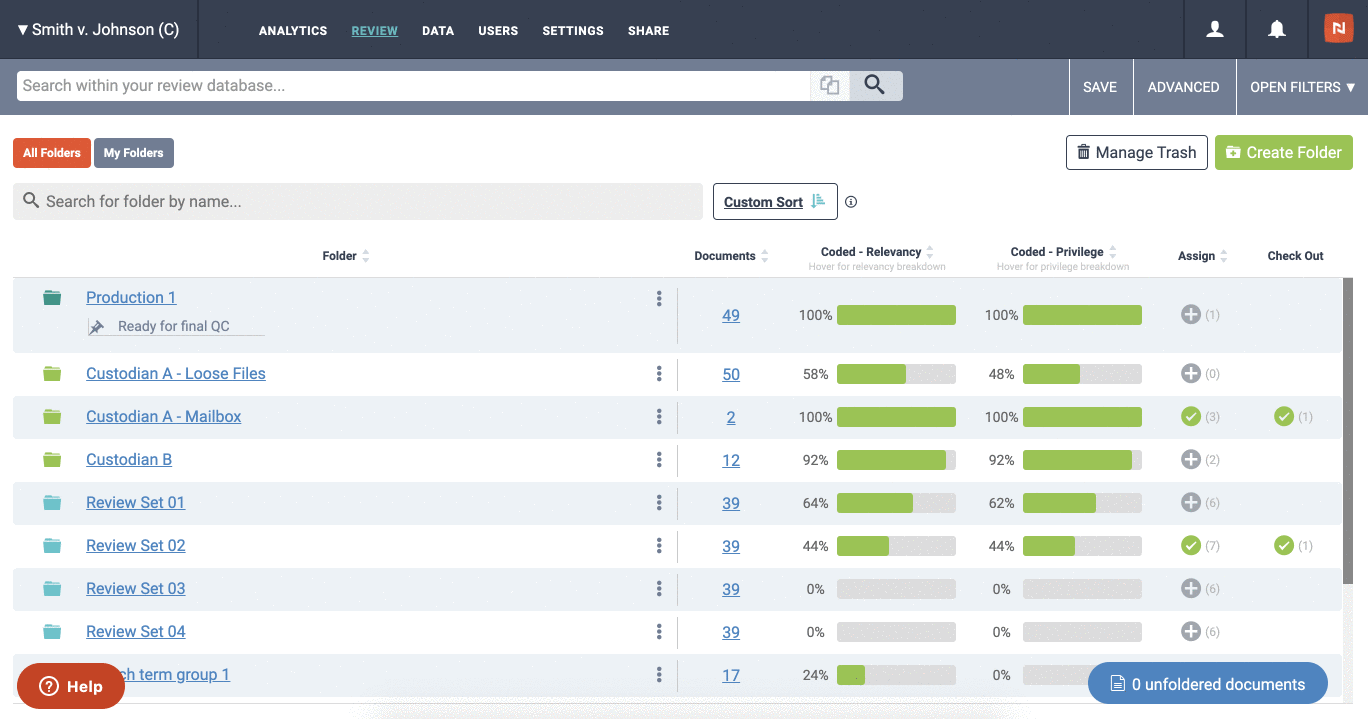 As an added bonus, Folder Notes are now available in Prep in an effort to streamline functionality across Review and Prep.

FAQ: What if I am unable to access the three-dot drop down next to folders?
If you are suddenly unable to access any three-dot drop-down in your database, we first recommend refreshing your browser in order to clear the browser's cache. There are several ways to accomplish this:
PC: Hold Ctrl and click Refresh in your browser
PC: Hold Ctrl and click F5
Mac: Hold Ctrl + Shift and click R
If this does not do the trick, please try closing your browser completely and open a new window.
---
Save Time With Fewer Clicks
We are constantly striving to streamline your workflows and are firm believers that "every click counts". That's why we've introduced auto-populating prefixes when you are creating a new folder or issue (in both Review and Prep).
Just click Create Folder (or create a new issue), enter your folder name, and the prefix will appear. If you have a specific naming convention in mind you can also edit the automatically populated prefix.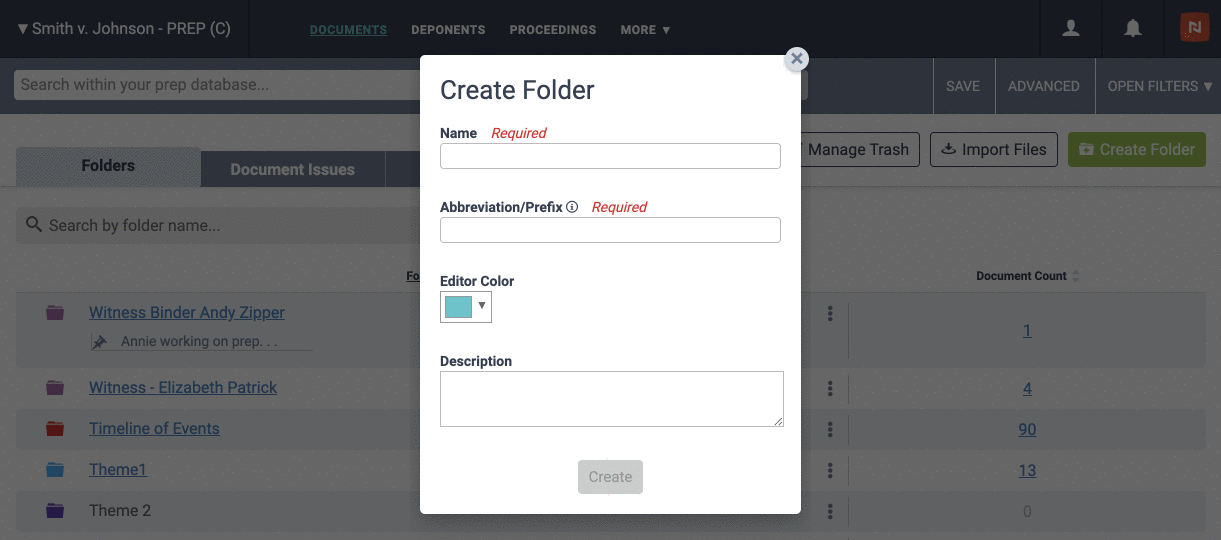 ---
Housekeeping Updates
Added an interaction to the button for unfoldered docs to "close" on scroll and "expand" when you stop scrolling or hover over the button. Read more on unfoldered documents from our last update here >>
Removed Number and Endorse, Number Only, and Export Exhibit List from the Document Issues tab hamburger menu in Prep as they were not applicable. These options are still available in any Prep database under DOCUMENTS > Folders
Improved the loading time of the folder lists in both Review and Prep
More Information on Folders
Read more on our first phase of folder management and navigation updates here >>