*This functionality is available for Advanced users only.
When working in Nextpoint Discovery, folders can be assigned, unassigned, inactivated or deleted in bulk from SETTINGS > Folders. When working in Nextpoint Litigation, the same can be done through More > SETTINGS > Documents.
---
Assigning Folders
If you have a team of reviewers which like to assign folders (batches) of documents to, you can add those users at a Reviewer Access level. When they log in to the database, they will only be able to access, search and code documents in folders assigned to them.
Once your users have been added at the Reviewer access level, to assign folders, take the following steps:
Navigate to SETTINGS
Within SETTINGS, click on Folders (In Litigation, click on Documents)
Select the review Folders you would like to assign by checking the box to the left of the folder name

Use the "All" link on the top left of the folder list to quickly select all folders

Select Assign from the Bulk Actions dropdown menu on the right


Folders may also be reordered from this screen by using the "Reorder" button

Click on the user(s) to indicate a folder assignment to the selected folders in Step 3
Finalize your assignment by clicking Assign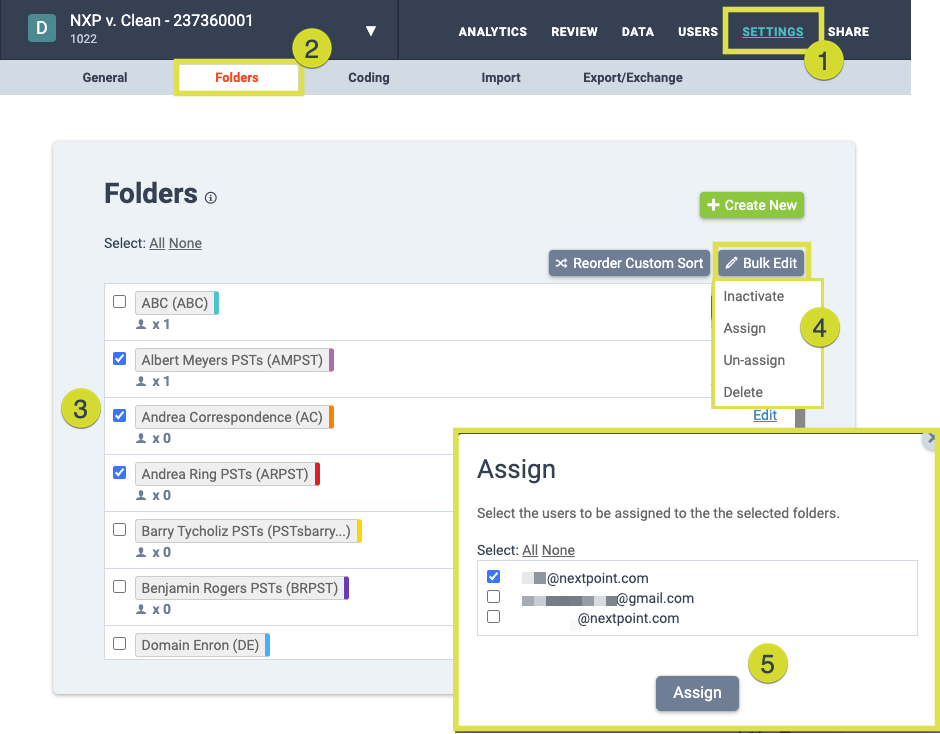 How do I know which users are assigned to a folder?
When a folder is selected, hovering your mouse over the profile icon

will show a listing of all users to which the folder has been assigned.
---
Viewing & Checking Out Assigned Folders (Discovery Databases Only)
After assignments are complete, Reviewers can navigate to the Review tab and see a list of folders to which they have been assigned.
If more than one Reviewer is assigned to a folder, users can check folders in/out via the "Check Out" column to indicate to others they are working on that particular folder.


Indicates someone else has "checked out" the folder.

Indicates nobody has "checked out" the folder.

Indicates you have "checked out" the folder.

If you click this icon, you can assign the folder to yourself. As well, you can hover over any of the counts to see who has been assigned or who has checked out any given folder.