Nextpoint's Deponents and Proceedings sections allow lawyers to group transcripts together, by category, so that groups of transcripts are always organized, searchable and easy to navigate.
---
Import a Single Transcript, or Batch Load Multiple Transcripts
1 | Initiate the Import Process
At the top of the main Litigation navigation, click on the DEPONENTS (or PROCEEDINGS if that's what you need).
Click the blue Import Files button.

2 | Select your Transcript File
If the transcript file resides on your local drive, select Add File From Computer to select your deposition (or .zip file if uploading multiple depositions). You can also connect your Dropbox to a transcript file if it is stored there.
If the transcript file has previously been uploaded to your File Room, select Add File From File Room. For more information on File Room, click here.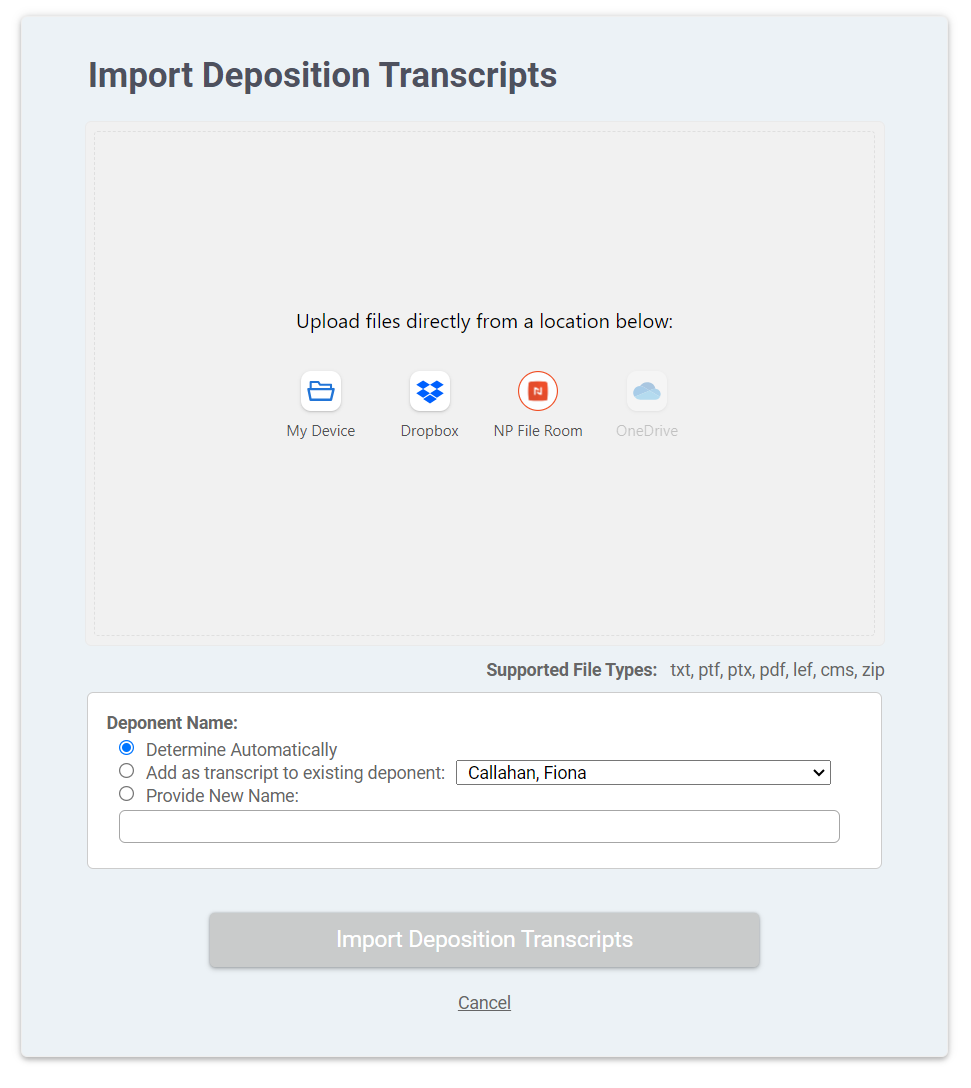 Accepted Transcript File Types
Litigation accepts TXT, PTF, PTX, PDF, LEF, CMS, or ZIP formats for your transcript files.
Want more info on each transcript file type? Click here >>
3 | Set the Transcript Name
After you select your transcript file, you can set the deponent/proceeding name via one of the following three options:
Have the system determine the deponent automatically,
Add as a volume to an existing deponent, or
Provide a new name.
4 | Finalize your Import
Click Import Deposition Transcripts (or Import Proceeding Transcripts, as applicable).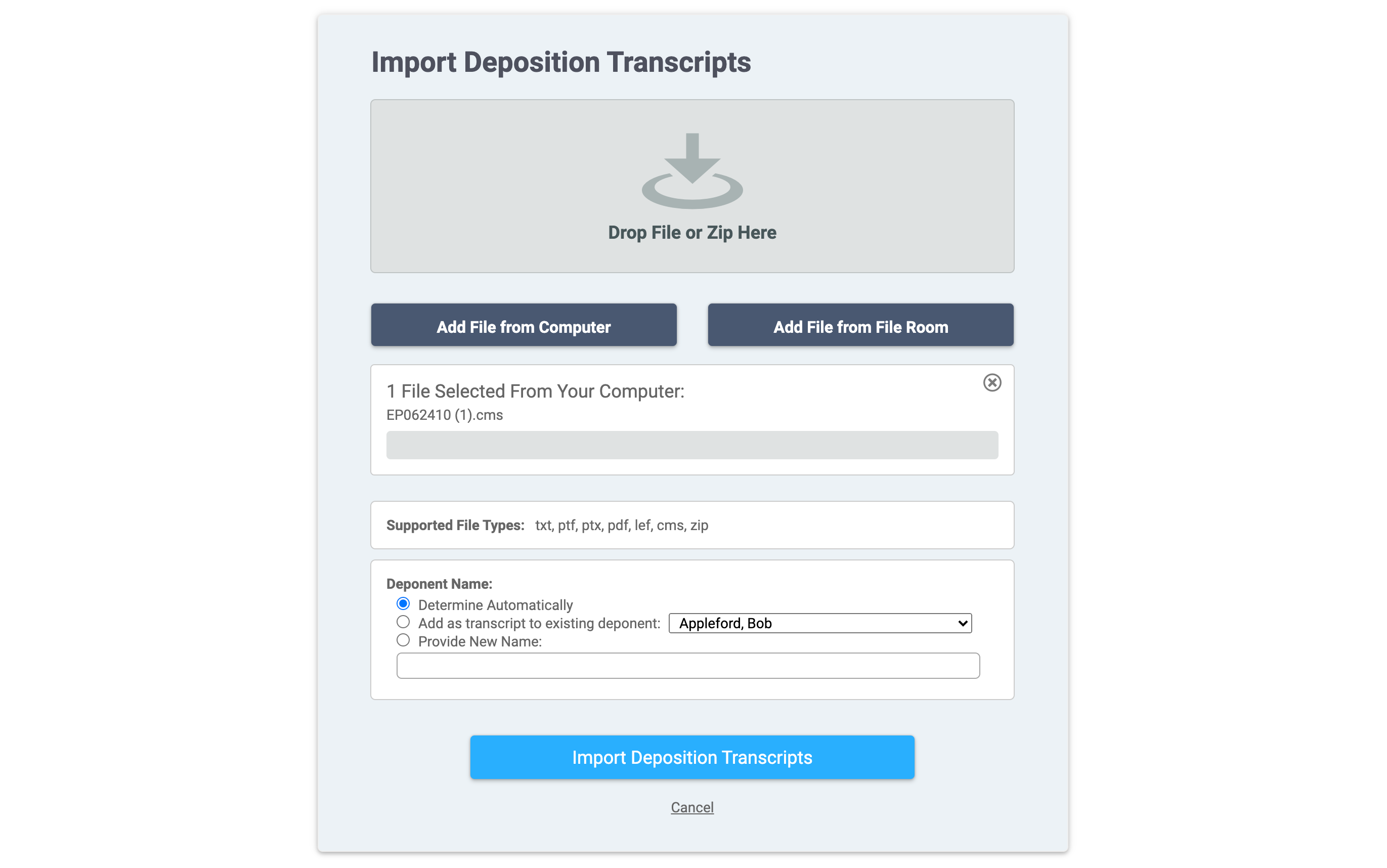 Processing Note
Nextpoint auto-detects and sets the standard metadata fields for your deposition & proceeding transcripts upon upload. Occasionally, electronic transcripts have issues and the fields aren't correctly identified during upload, but you can always manually edit this information by following the instructions below.
---
Edit Your Transcripts
After your transcripts have finished processing, Advanced users can edit the transcript date, volume number and start page, and also import any associated videos and sync files. For more information on working with video depositions/proceedings, click here >>
Once inside the transcript itself, click on More Options > Edit in the upper right side of the page.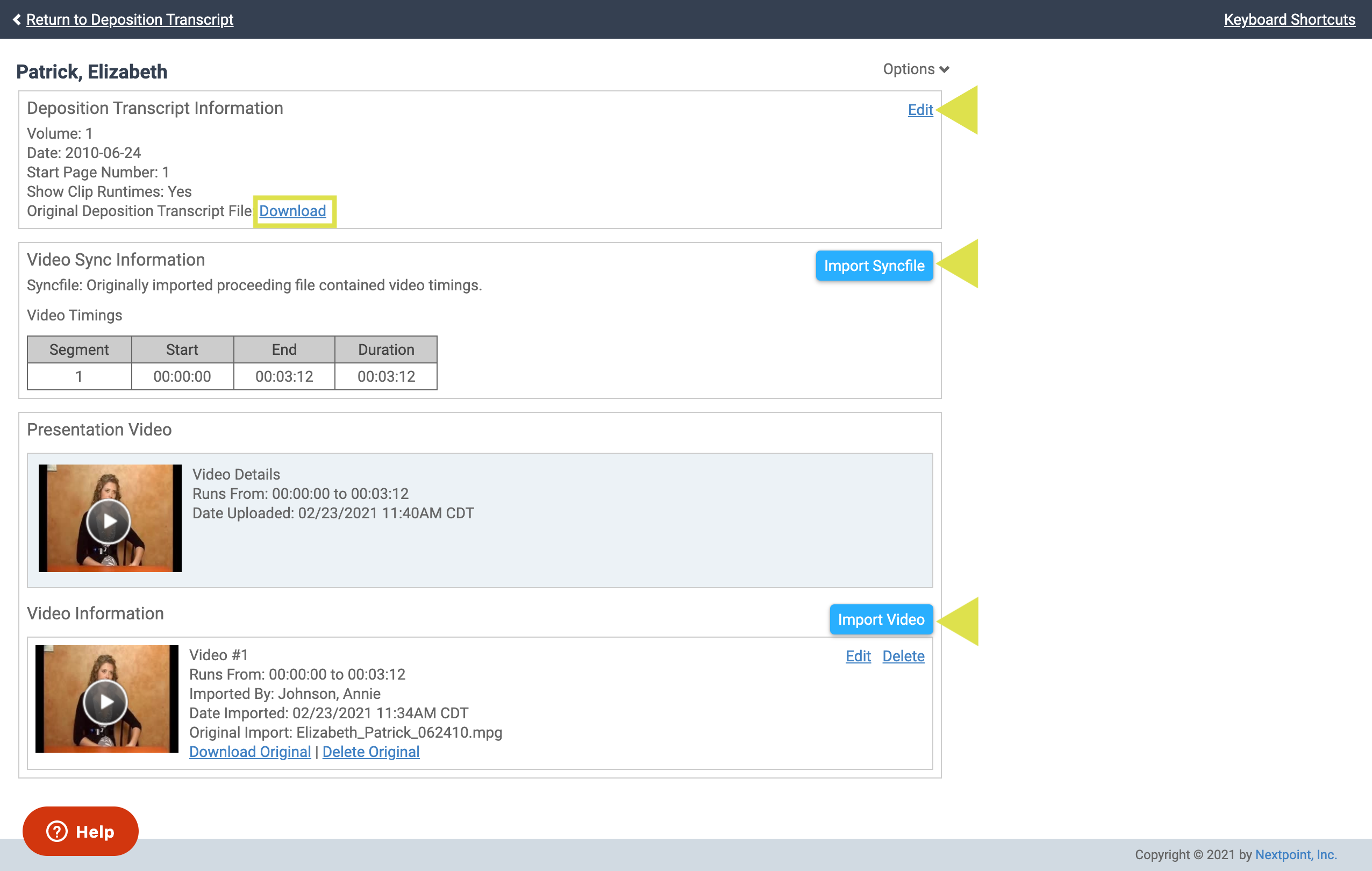 Return to Litigation Workflow