* This functionality is available for Advanced users only.
Just as you can create and apply Document Field(s) to your document universe and search on same, you can now apply the same organization methods to your transcripts with Transcript Fields.
Every Nextpoint Litigation database includes a set of default transcript fields which values can be applied for more powerful transcript management and easier searching. If you need additional fields beyond the default set (e.g. Summary, Case or Trial, Category, etc..), you can create as many as you need.
Searching on Transcript Fields
All default and custom transcript fields can be searched on under the DEPONENT and PROCEEDING tabs through the use of the search syntax field_name:"value". For example, to search on the field "Deposing Attorney" for the value "John Smith", the search would be deposing_attorney:"John Smith"
---
Default Transcript Fields
Below are the default Transcript fields provided in every database. All default fields can be modified or deleted with the exception of Volume and Date.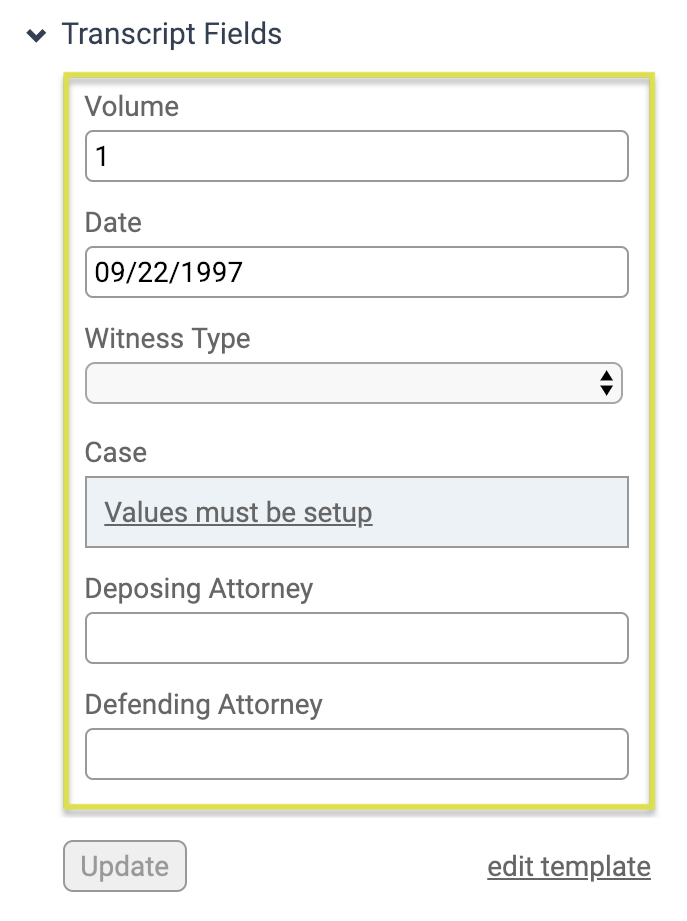 Where is my historical Category information?
Previously, there was a "Category" field present under the DEPONENTS and PROCEEDINGS tabs (fka DEPOSITONS and TRANSCRIPTS) in which users could categorize different types of transcripts. With recent updates, any existing Category information has been ported to a new transcript field titled "Category".
To find all transcripts within a specific category, simply search for Category:categoryname (e.g. Category:General), and all results will be returned.

Viewing Transcript Fields in Search Results
All default and custom transcript fields can be added to your Transcript Grid View Templates for better visibility into your search results.
---
Adding (Custom) Transcript Fields
To add, delete, or modify Transcript Fields, navigate to the top of the home page, click MORE > Settings.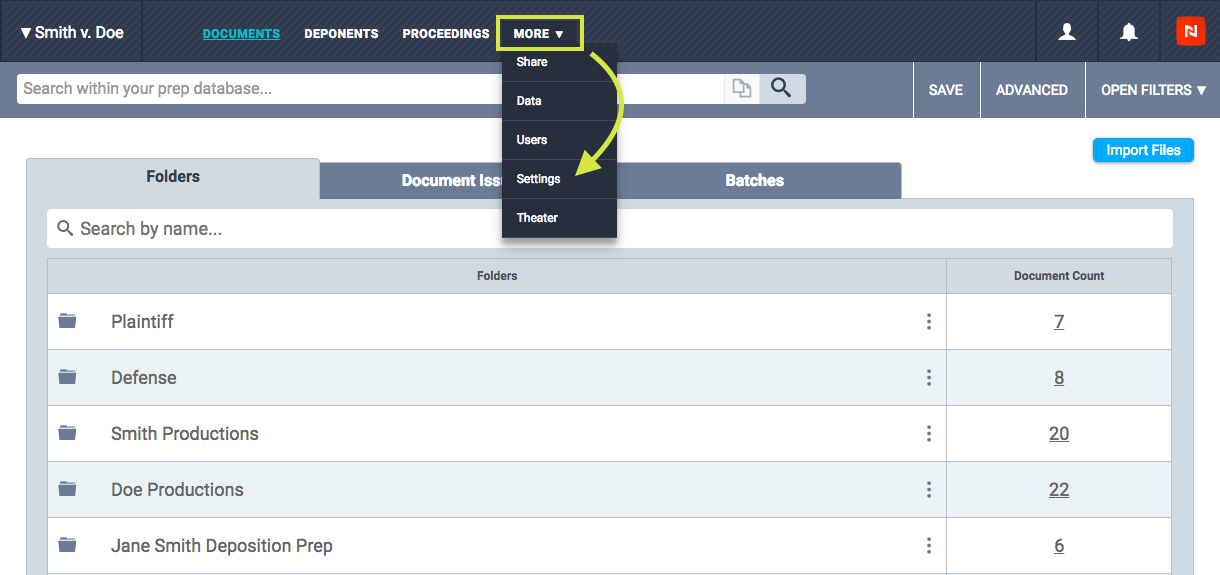 Click to view the Transcripts tab, and under the Fields section click "Create New". If you need to edit or delete an existing field, simply click "Edit" or "Delete" next to the appropriate field, and proceed accordingly.

Choose a Title for your coding field, and select the Input Type - there is a brief description of each kind. To learn more about Input Types, click here. When you are all set, click "Create Transcript Field".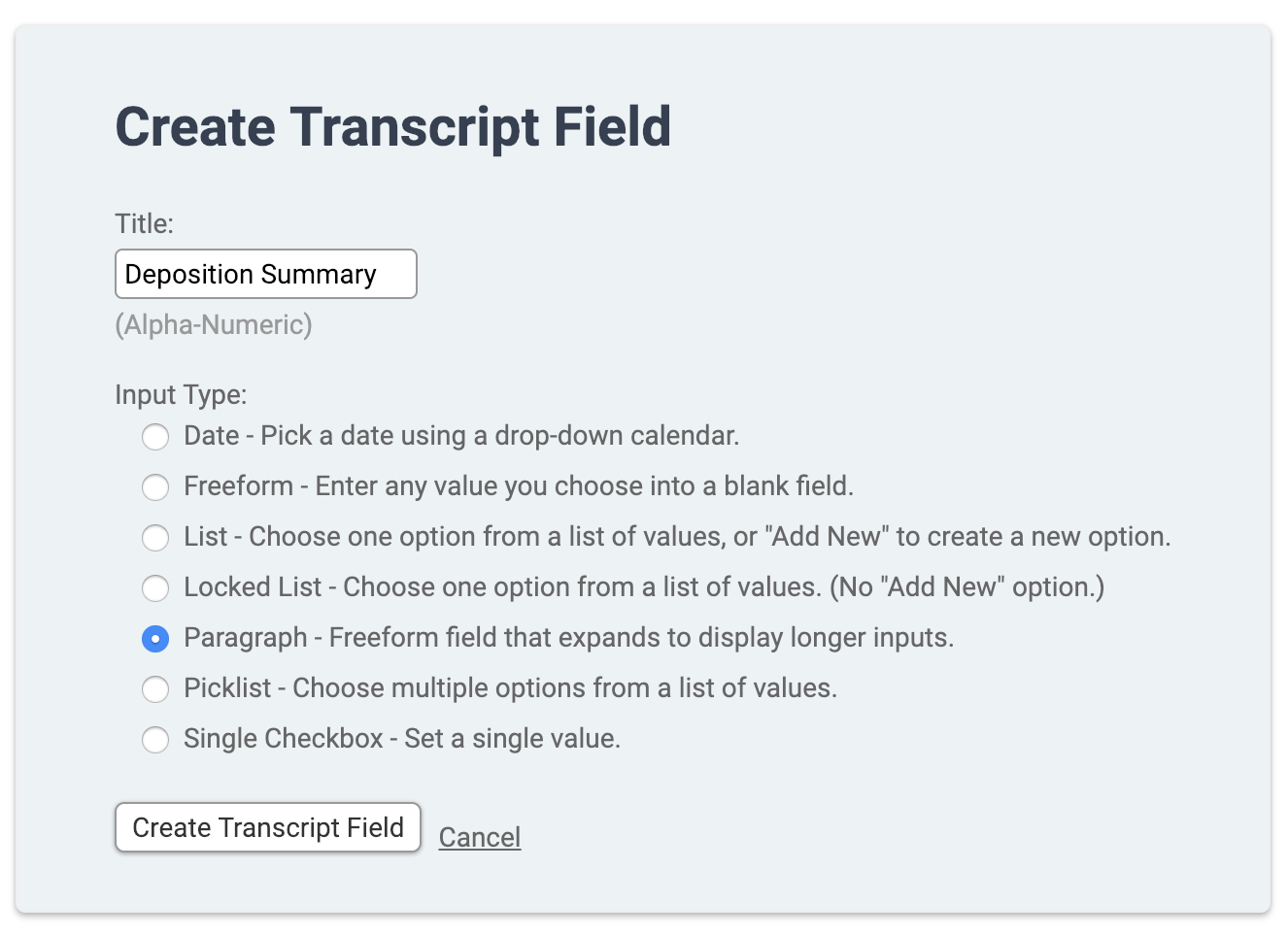 If you choose to make the field a List, Locked List, or Picklist, you will be able to enter values. Enter a value, then click "Add". To remove a value, click

. When you have entered all values, click "Done" and you will be returned to the Transcript Settings.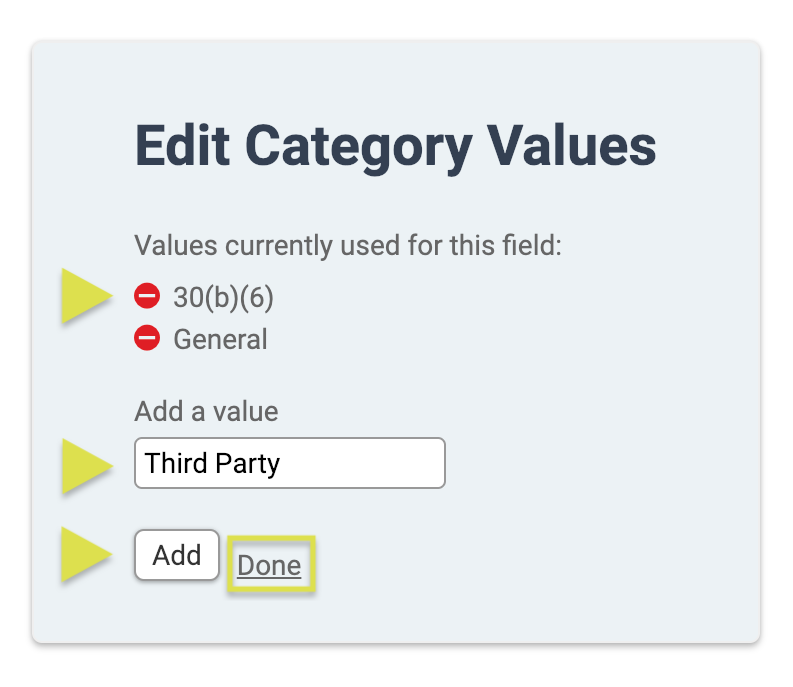 Once all needed fields have been added, you can return to DEPONENTS or PROCEEDINGS, navigate into a particular transcript, and put your new fields to work.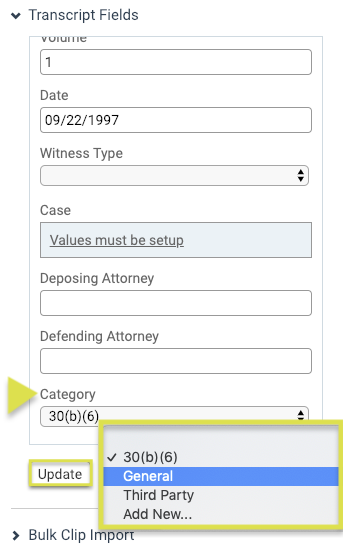 Discover more about Litigation Settings and Database Customization here and Creating Transcript Grid Views here!