When importing your data into Nextpoint, OCR 1 is employed on your documents imported to extract any associated search text. After the import is complete, users have the flexibility to construct their own search syntaxes with the assistance of Boolean logic 2. You can find the search bar below in Nextpoint Discovery and Litigation (for both Documents and Transcripts).
If you are learning the nuances of building more complicated searches and/or just want some help building your search syntax, there is the Advanced Search functionality to assist. This can be found to the right of any search bar under ADVANCED.

Check out some Search Tips, Tricks, and FAQ's here.
---
Building an Advanced Search
To build and run an Advanced Search, start by selecting Advanced next to any search bar (as shown above). Here's a breakdown of some of the basics:
Search syntax builds as you enter terms or make coding selections
Search by Discovery, Privileged and/or Confidentiality statuses
Use Boolean operators (AND, OR), look for exact phrases, and enter proximity searches
More search tools are available via the "More Tools" dropdown, such as word exclusions and fuzzy searches
Search within specific Bates or Date Ranges
Search within specific metadata or (custom) coding fields
Click Advanced Search when all terms are entered, and you will be taken to a results page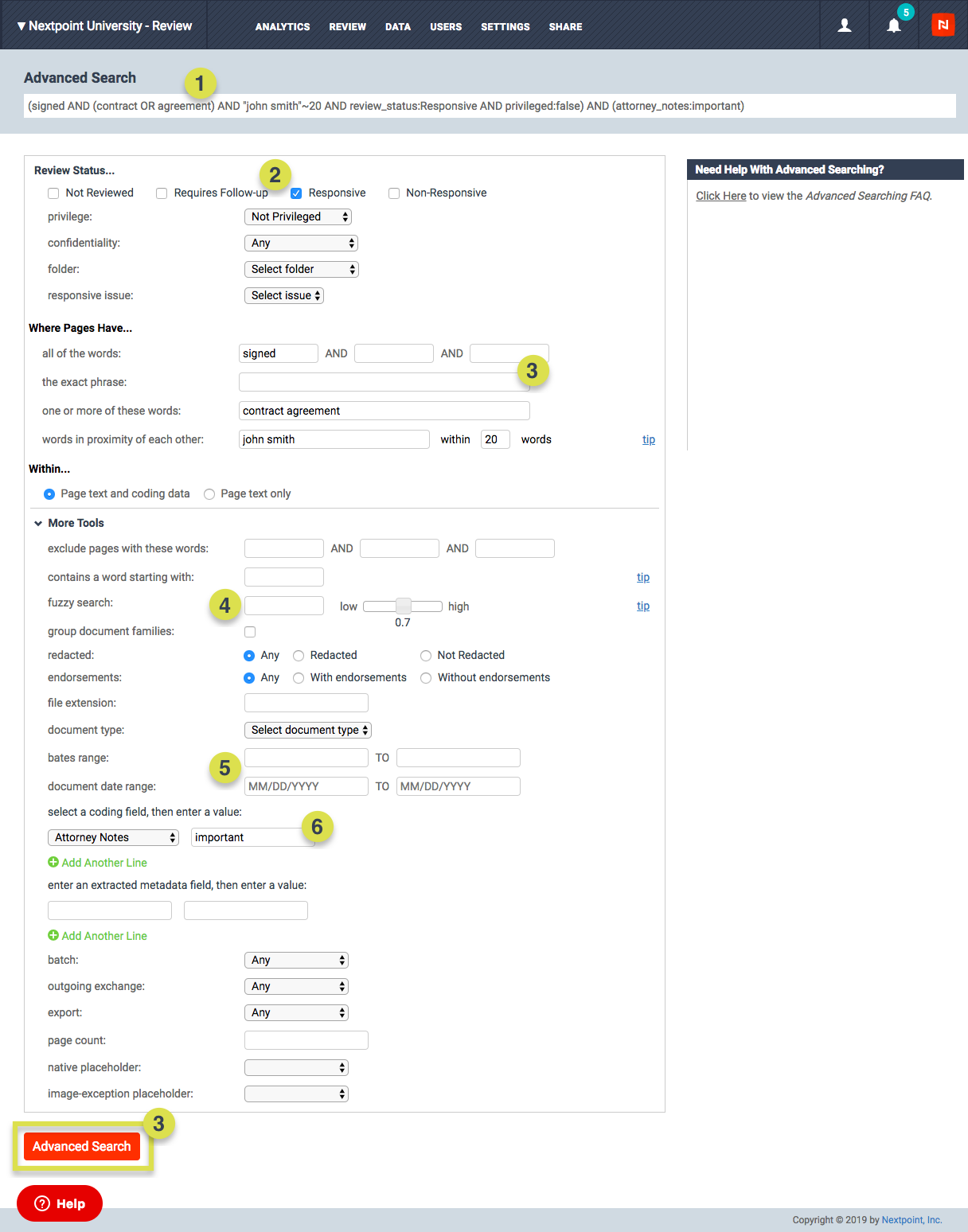 Return to Discovery Workflow
Notes:
EDRM (edrm.net), Glossaries, http://www.edrm.net/glossary/ocr/
EDRM (edrm.net), Glossaries, http://www.edrm.net/glossary/boolean-search/