Release Note
If you are having trouble accessing the spreadsheet viewer, attempt to perform a "Hard Refresh" to reset your browser.*
On July 18, 2022, Nextpoint released a native spreadsheet viewer for both Litigation and Discovery databases. This feature allows users to review spreadsheets from within the app, without relying on images or being forced to download spreadsheets and review them outside of the app. This new feature will support .xls, .xlsx, .xlsm, .xlsb, and .csv files.
Note: .xls, .xlsb and .csv documents imported prior to launch will need to be converted to .xlsx in order to use native viewer. The user will be prompted to convert the file from the doc viewer. xls, .xlsb and .csv documents imported post launch will convert to .xlsx automatically on import.
To access the spreadsheet viewer, click on the "View" dropdown, and select the "Spreadsheet" option.
From "Spreadsheet view," Nextpoint users can review the cells in each tab of the spreadsheet and complete the following tasks to aid in their review: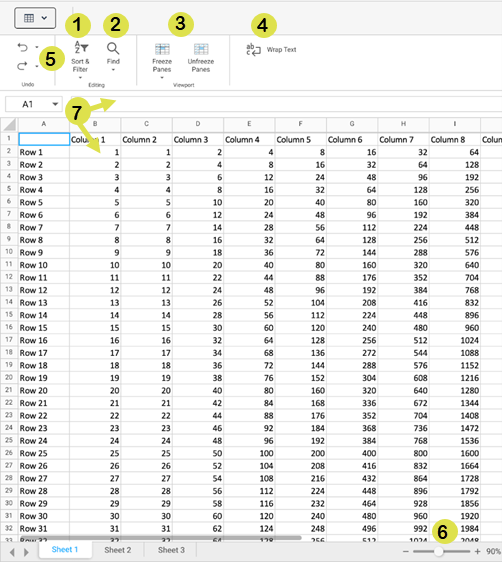 Sort and filter columns - to order and isolate specific data in the sheet.
Search for and find specific text in the spreadsheet.
Freeze and unfreeze pane
Wrap text.
Undo or Redo actions.
Zoom in or out on the sheet.
View any formulas that may exist in a cell in the formula bar above the sheet, or the data returned by the formula in the cell itself.
Additionally, any hidden data is unhidden when imported to ensure users do not miss anything important. Users can then hide and unhide columns as they please using the native viewer.
Currently, the process for processing spreadsheets will remain unchanged as will the process for redacting, endorsing, and producing spreadsheets.
*Please note: when searching on spreadsheets, the default is to search only within the current worksheet, but you can change this by clicking "Option >>" and selecting "WorkBook" from the dropdown for Within.