Your Account Dashboard is a central location in your Nextpoint account which provides an overview of user activity, data imports, and other key metrics associated with your firm's account.
Access to the Account Dashboard is reserved for the Account Administrator(s).
Before diving into the details, we encourage you to review the definitions outlined in the Account Setup article.
---
Accessing the Account Dashboard
To access the Account Dashboard, click on the name of the project in the upper left of the navigation bar (in this example: "Nextpoint Demo Account Dashboard") and click the "Manage Account" link.

---
What is a Project?
A project is any collaborative enterprise designed to achieve a particular aim. A project could be a legal case or matter, an investigation, a document review, a collaborative data analysis, or research activity.
Projects allow you to organize data and deploy resources to interact with that data in secure, nested databases. User permissions and access levels are all set on the database level.
---
Project Activity
On the Projects tab in your Account Dashboard, you can view various metrics associated with your account (shown in activity summary view below).
You can expand each project by clicking on it and view a granular breakdown of activity for each individual database in that project (shown in expanded project view below).
Get an in-depth look at what each column means >>
Activity Summary View for All Projects: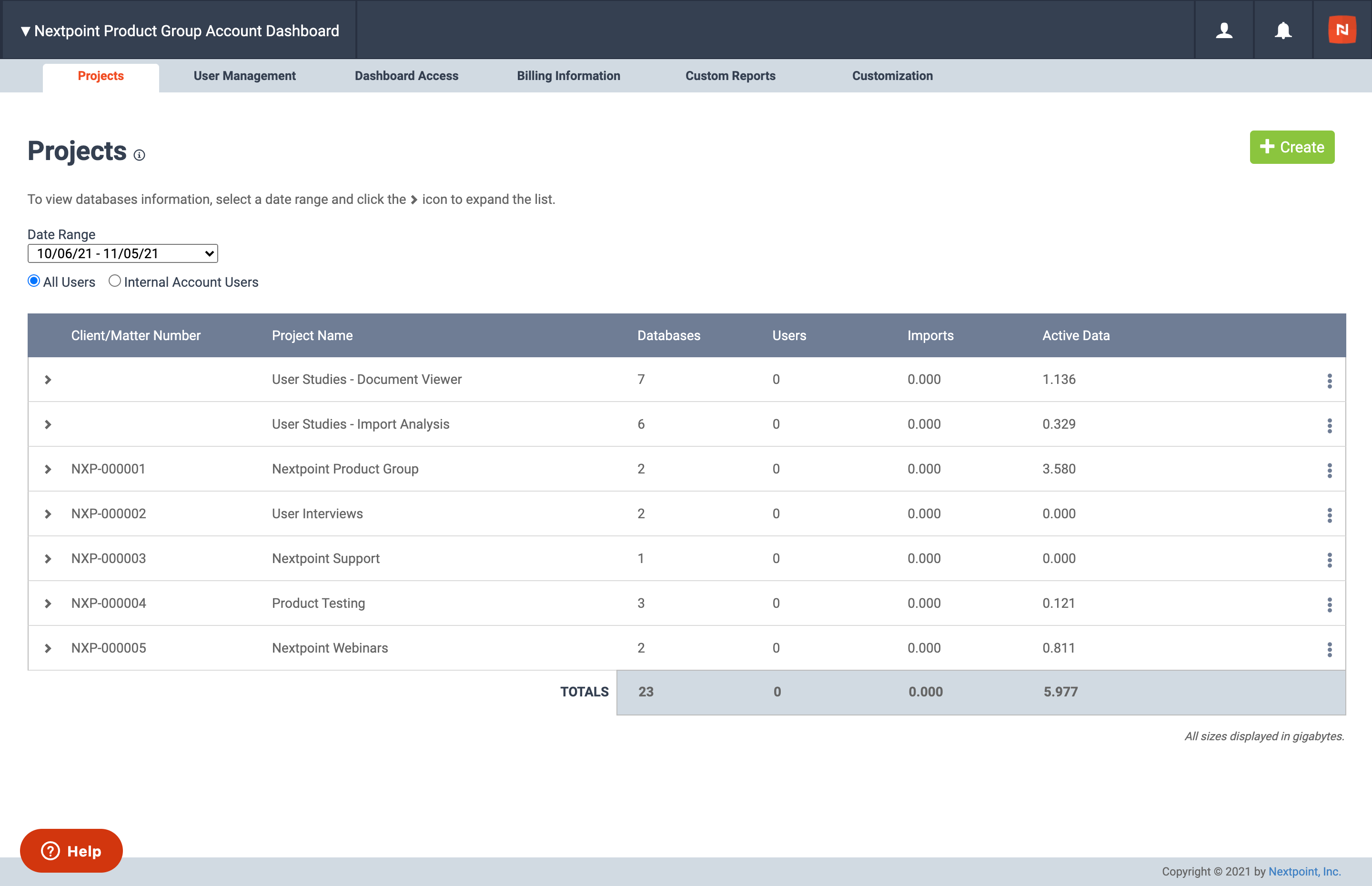 Expanded Project View:

Project Activity for Specific Date Range
You can easily refine your account dashboard activity view to a specific billing period.
To view different date ranges, click on the drop-down at the top left-hand side of the page under "Date Range".
Add a New Project
To add a new project to your account, click the "Create" button on the upper right-hand side of the projects tab screen and select "New Project".
In the pop-up window, enter the name of your project and the client/matter number, then click "Save". The newly created project will appear as a new row in the table view of your projects tab screen.

Pop-up Window View: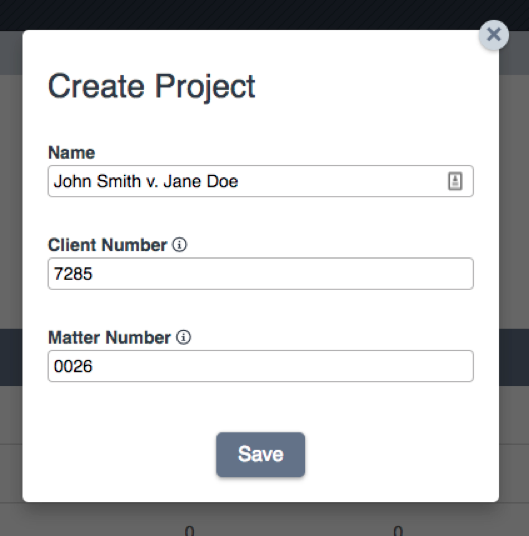 Add a Database to a Project
To add a new Discovery or Litigation database to your project, click the "Create" button located on the upper right-hand side of the projects tab.
Then, select "New Discovery Database" or "New Litigation Database" accordingly.

From there, you can name your database, select the project you want your database assigned to, add users, and set these users' personal user access levels for that particular database.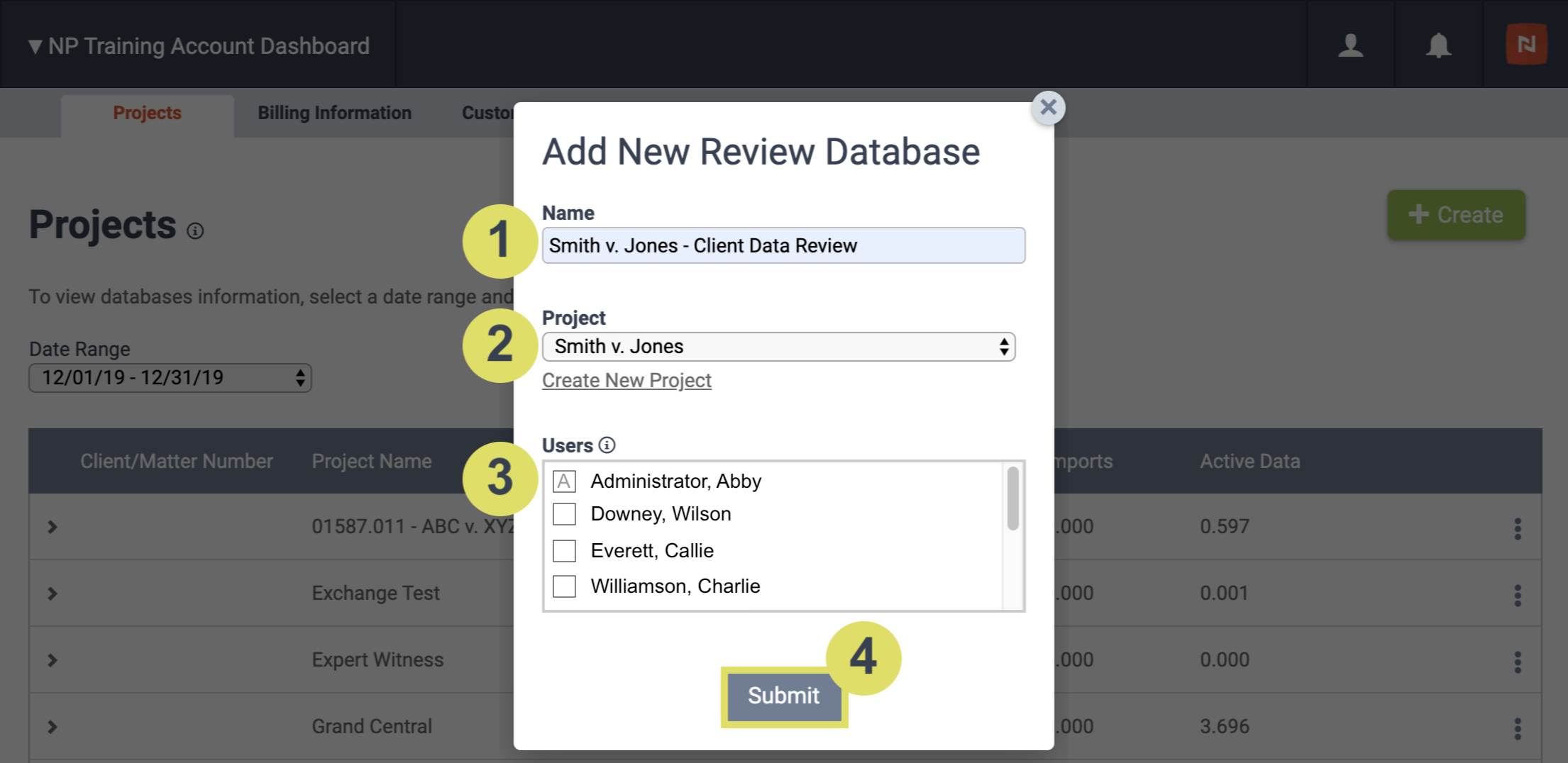 You can also navigate to the three-dot menu at the far right of the project row in the main project tab. From the drop-down menu, select to add new Discovery or Litigation database. The new database will be added to your project.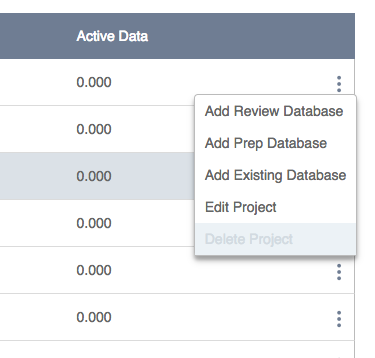 To add an already active database to your project, choose "Add Existing Database" from the three-dot menu in your project row (option shown in picture above). Then, select the checkbox next to the database(s) you would like to add and click "Save."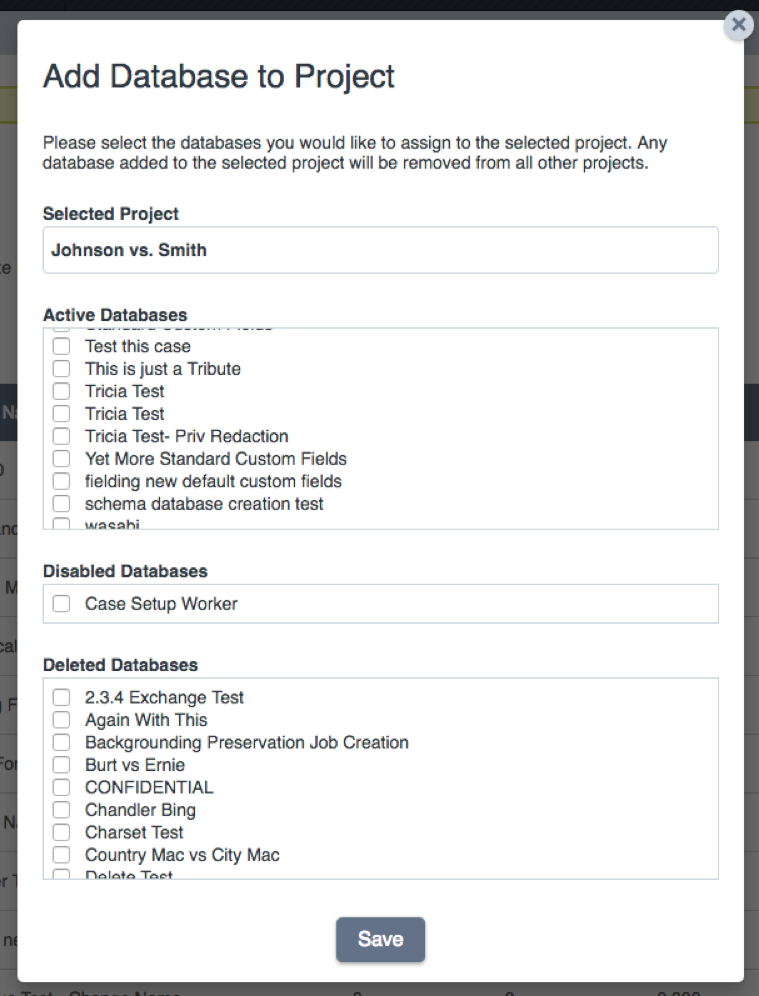 Edit a Project or Database Name
To edit a project name, click the three-dot menu at the far right of the project row in your main projects tab. In the pop-up window, you can edit the project name, client number, and matter number. Once you have made your changes, press "Save" and the changes will update throughout Nextpoint.

To edit a database name, click the three-dot menu next to the database name in your expanded project view and adjust the name accordingly in the pop-up window. Once you have made your changes, press "Submit" and the changes will update throughout Nextpoint.

Archiving
According to Nextpoint's standard terms of service, any database that is inactive for 12 consecutive months will be flagged for archiving and then automatically archived 60 days later. If you receive a notification of the archiving process, but wish to have the database remain active you may switch the database's status from "Pending Archive" to "Active". For more information about the archiving process please follow this link.
User Management
Via the User Management tab, All-Access Dashboard Admins can effectively view and manage all users in their firm's Nextpoint account.
*Important to note: Dashboard Admins are only permitted to grant access or edit user access levels in databases which they (the Dashboard Admin) have Advanced Access. This was thoughtfully considered by the Nextpoint team to ensure appropriate security measures are taken when handling access to client data and potentially sensitive materials.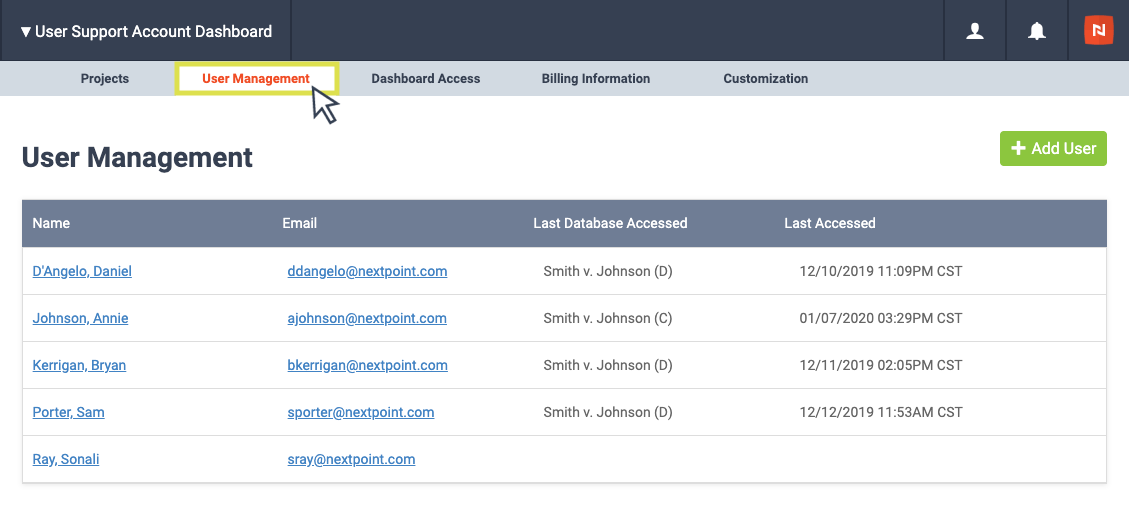 Add and Remove Account Administrators
To add and remove account administrators, click on "Dashboard Access". To add an administrator, enter their email address and click "Add User as Admin to Account." To remove an administrator, click the red delete button next to the user's name.

Add and/or Update Billing Information
You can add and update billing information by entering your information into the fields then clicking "Submit".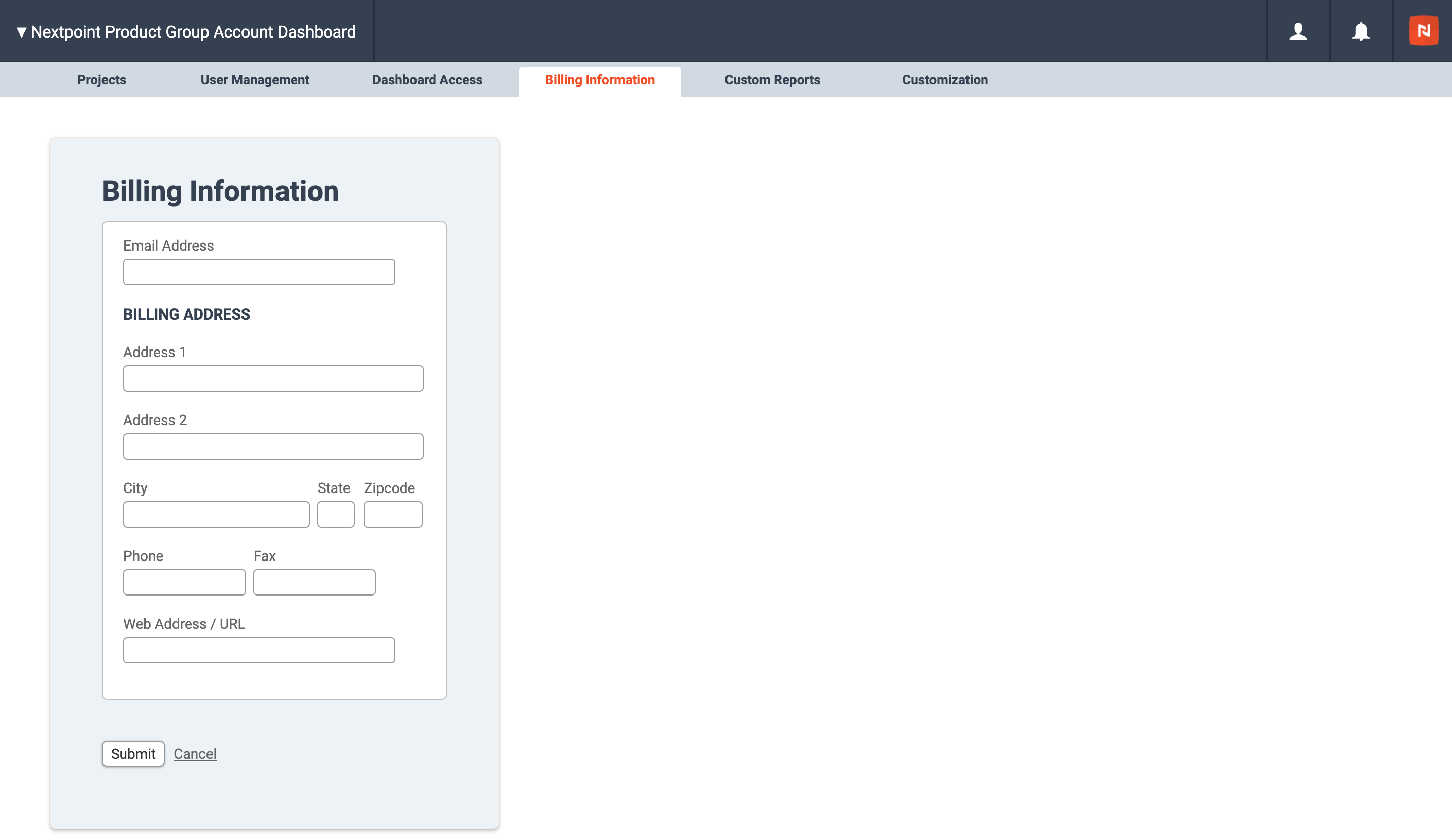 Run User Activity and Database Reports via Custom Reports
From the Custom Reports tab, Nextpoint Dashboard Administrators have the ability to generate User Activity Reports, Database List Reports, and other Custom Reports.
Read more on Custom Report Details here >>

Customize Your Account
To add your Account Logo, go to your Account Dashboard and select the "Customization" tab. Select the file you would like to use, and click "Submit".
Note: the logo should be a .jpg, .gif or .png file, and should be no more than 570 pixels in width and 130 pixels in height.