Deponents Main Page
Run keyword searches across deposition population. Upon running any keyword search in Deponents or Proceedings, you can download a Search Hit Report across all respective transcripts. See second graphic above.

Please note, if you would like a search report for both proceedings AND transcripts, you will need to run your search in each section.

Import transcript files. For more information on importing exhibits, click here.
Transfer Deponent (or Proceeding) transcript to a secondary database.
Download a Summary Report spreadsheet of all designations/clips.
Filter alphabetically by transcript.
Edit transcript (Deponent or Proceeding) name.
View color-coded designations and issues associated with a deposition.
Download original transcript file.
View all documents (exhibits) related to a particular transcript.
View video associated with a particular transcript.
Click Quick Links to view all depositions associated with a designation or issue.

Upon clicking a particular designation or issue in the Quick Links, you can also download a Clip Summary Report which is a PDF report of the various deponents and the designated testimony. This selection option will appear at the top left next to "Transfer Deponent" (#3).

---
Deponent Detail Page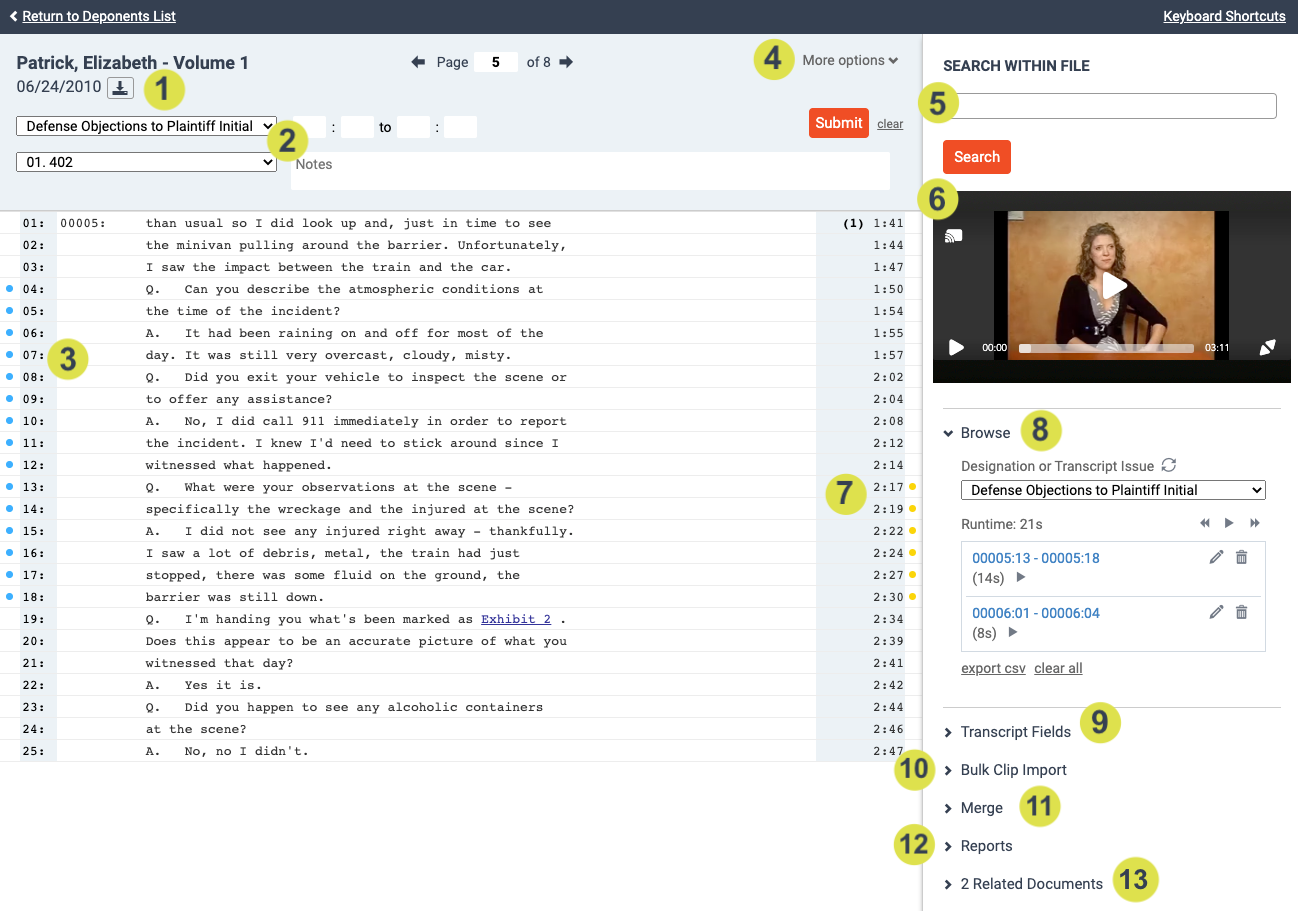 Download original

transcript file.

Designations made will appear as color-coded circles on the left side, or exclamation points if there are notes. Objections will appear on the right. For more information, click here.
Access More options, where you can Download or Delete a transcript file or Edit information. For more information, click here.
Search for keywords within the deposition.
If there is a video, you may view here. For more information, click here.
Click on a time stamp to jump to that spot of the video deposition.
View current designations via the "Browse" drop-down menu. You can toggle amongst each designation by clicking on the blue hyperlinked text.
You can create and apply fields to your transcript. For more information, click here.
Designation clips can be bulk imported. For more information, click here.
If you have two sets of designations clips which you need to merge into one comprehensive designation set, you can do so via "Merge".
Various designation export functions are available. For more information, click here.
Relate exhibits to your transcript via a Folder, view related documents from a list, or create/view hyperlinks within the deposition. For more information, click here.
Return to Litigation Workflow