* This functionality is available for Advanced and Standard users only.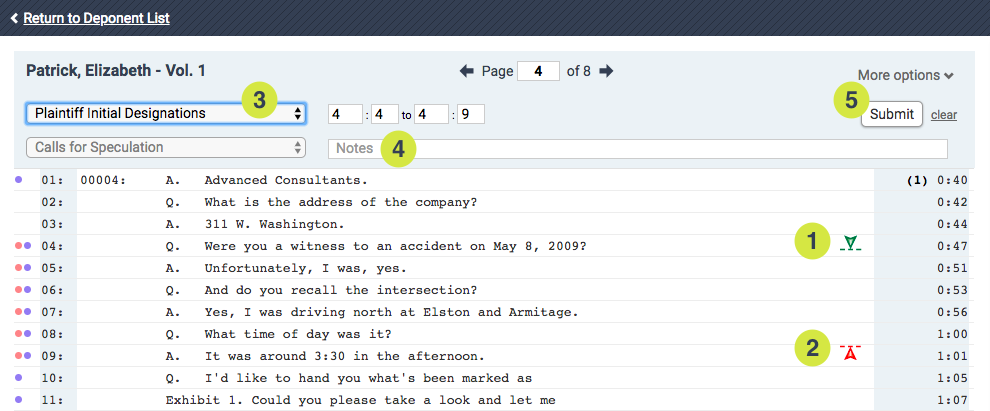 Click on the first line you'd like to set as your designation starting point, a green arrow will appear.
Click on the last line you'd like to set as the end point, and a red arrow will appear.
Choose your Designation or Issue from the dropdown.
Add any Notes for the designation, such as indication of a partial line designation.
Click "Submit".
---
After your designation is created, you'll see colored dots to the left of your designation.
If you entered any notes in the notes field, the dots will be turned into exclamation points. Hover over them to see the notes.
If you entered any objections, they will appear as dots/exclamation points on the right.

If you received designations from an opposing party, or have a table or spreadsheet of designations which you would like to apply to a transcript, you can do so easily with the Bulk Clip Import.  The following steps will assist in accomplishing such:
Make sure the needed transcript Designation or Issue has been created under SETTINGS > Transcripts.
Create your designations in Excel in the following format, and save as a .csv file.

start-page | start-line | end-page | end-line | Notes




Navigate to the Bulk Clip Import section of the appropriate transcript and choose the Designation or Issue to be applied.
Browse to locate the .csv file, then click "Import Clips".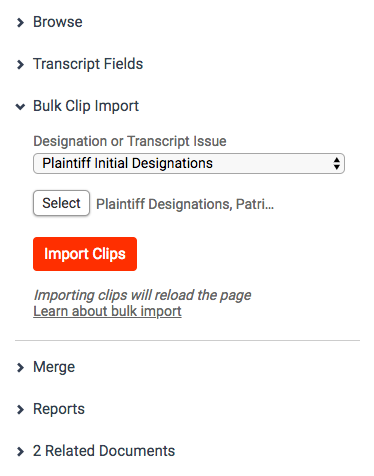 Your designations will automatically be populated in the deposition.
 To export your designations, follow this link.
Return to Prep Workflow