* This functionality is available for Advanced and Standard users only.

Click on the first line you'd like to set as your designation starting point, a green arrow will appear.
Click on the last line you'd like to set as the end point, and a red arrow will appear.
Choose your Folder or Issue from the dropdown.
Add any Notes for the designation, such as indication of a partial line designation.
Click "Submit".
---
After your designation is created, you'll see colored dots to the left of your designation.
If you entered any notes in the notes field, the dots will be turned into exclamation points. Hover over them to see the notes.
If you entered any objections, they will appear as dots/exclamation points on the right.

Create your designations in Excel in the following format, and save as a .csv file.
start-page | start-line | end-page | end-line | Notes
Go to the Bulk Designation Import section, choose the Folder that the designations will apply to.
Browse to locate the .csv file, then click "Import Designations".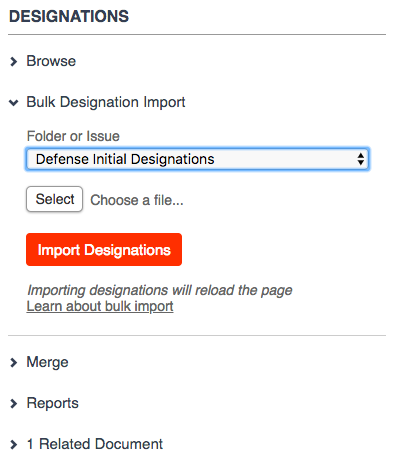 Your designations will automatically be populated in the deposition.
 To export your designations, follow this link.
Return to Prep Workflow